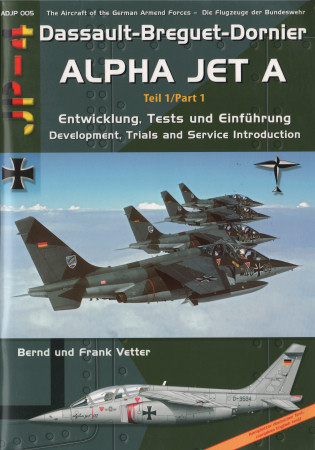 Dassault-Breguet-Dornier Alpha Jet A Part 1 Book Review
| | | | |
| --- | --- | --- | --- |
| Date of Review | August 2014 | Title | Dassault-Breguet-Dornier Alpha Jet A Part 1 |
| Author | Bernd and Frank Vetter | Publisher | AirDOC |
| Published | 2014 | ISBN | 978-3-935687-671-3 |
| Format | 64 pages, softbound | MSRP (Euro) | €16.95 less 7% VAT for non-EU customers |
Review
AirDOC has released this first installment of the Alpha Jet series. A joint trainer program between France (Dassault-Breguet) and Germany (Dornier), the Alpha Jet is one of Europe's premiere training aircraft to take student pilots into advanced tactical aircraft like the Eurofighter and Rafale. The title is presented in two columns throughout, English on the left, Deutsch on the rechts.
This title focuses on the development and test of this versatile aircraft as well as a look at the initial deployment of the Alpha Jet into service. This title covers:
Design and Development
Close Air Support
Alpha Jet Flight Testing
Series Production
Service Introduction
Technical Group 31 Leipheim
Fighter Bomber Wing 49
While the Close Air Support chapter sounds out of place in this timeline, this chapter looks at the additional requirements placed upon the Alpha Jet design to serve as a CAS-capable replacement to the Fiat G.91 Gina. As the aircraft began operations at the 49th Wing, it not only provided fighter-bomber lead-in training for F-4F and Tornado crews, the unit also began the task of using Alpha Jet as a helicopter hunter (Hips and Hinds and Havocs, oh my!).
For the aviation historian and enthusiast, this title goes into nice detail on the well-illustrated design and development of this petite combat aircraft. Modelers will also appreciate the great color photo details in this title to help with the recently released Wingman Models (Kinetic) 1/48 Alpha Jet kits. Coincidence? I think not.
If you're on the fence or even leaning toward the BAe Hawk over the Alpha Jet as a capable combat aircraft and trainer, remember that when both of them lose an engine, the Alpha Jet crew will recover at home base and get the problem fixed while the Hawk crew ejects and walks home. Get a copy of this great title for your library and I can't wait to see Part 2!
This title is available directly from AirDOC's website http://www.airdoc.eu/.
My sincere thanks to AirDOC for this review sample!