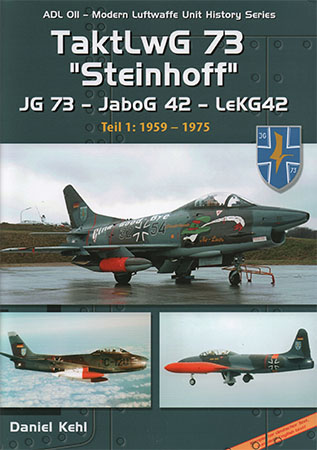 TaktLwG 73 'Steinhoff' Part 1 Book Review
| | | | |
| --- | --- | --- | --- |
| Date of Review | February 2020 | Title | TaktLwG 73 'Steinhoff' Part 1 |
| Author | Daniel Kehl | Publisher | AirDOC |
| Published | 2018 | ISBN | 978-3-935687-23-2 |
| Format | 64 pages, softbound | MSRP (Euro) | €16.95 less 7% VAT for non-EU customers |
Review
As you know, AirDoc publishes a wide range of interesting references, and this one is no different. Coming from their Luftwaffe Unit History series, this title is Part One of the history of JG 73 covering 1959-1975. As you know, the post-war Luftwaffe was established in 1956 after Germany was accepted into NATO. It took time for Germany to reform its air arm, recruit and train new personnel, and build new facilities. JG 73 was the third fighter wing to be activated and its first aircraft was the Canadair CL-13B Sabre. A license-built version of the USAF's F-86, these were Sabre Mark 6 airframes powered by the Orenda engine which provided superior performance and reliability to the USAF examples.
While JG 73 flew the Sabre through 1967, the wing began its transition into the 'Mini-Sabre' in 1963 with the adoption of the Fiat G.91 'Gina'. While the Luftwaffe had problems with the Gina, transition didn't really start in full force until 1966. As with the coverage of the Sabre in JG 73 service, the Gina coverage is also well-illustrated with black and white as well as full color photography.
This title is published side-by-side in German and English, and provides some interesting insight into the operations and events of JG 73. The narrative is well-illustrated with period photography, many of which are in color. Looking for good photos of early bare-metal fighters? Looking for good photos of unit emblems and insignia and how they evolved over time? They're here. Want to see the Sabre armed with AIM-9B Sidewinders back in 1961? Also here.
Whether you're an aviation historian or a fan of the Canadadair Sabre or Fiat G.91, the information and images in this title will add some outstanding information and insight into this fighter wing of the new Luftwaffe.
This title is available directly from AirDOC's website http://www.airdoc.eu/.
My sincere thanks to AirDOC for this review sample!