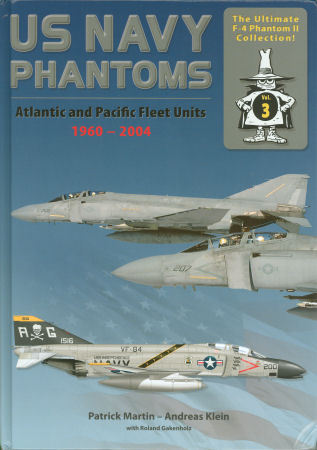 US Navy Phantoms Book Review
| | | | |
| --- | --- | --- | --- |
| Date of Review | December 2010 | Title | US Navy Phantoms |
| Author | Patrick Martin, Andreas Klein | Publisher | AirDOC |
| Published | 2010 | ISBN | 978-3-935687-83-6 |
| Format | 160 pages, hardbound | MSRP (Euro) | €39.95 less 7% VAT for non-EU customers |
Review
AirDOC just released a new title from their 'Double Ugly! Books' series providing a nice cross-section of US Navy Phantoms. The title opens up with a quick summary of the variants of the Phantom operated by the US Navy starting with the F4H-1 prototypes to the final F-4S. This title doesn't address the recce Phantom nor USMC operators.
From the opening summary, this title dives straight into the squadrons and special activities that flew the F-4. Each squadron/activity summary provides a quick sketch of the unit's history with the type along with beautiful color shots of the aircraft spanning the high-visibility as well as low-visibility color schemes used (where applicable). The squadrons/activities that are covered here include:
VF-11 Red Rippers
VF-14 Top Hatters
VF-21 Freelancers
VF-22L1 Naval Reserve
VF-31 Tomcatters
VF-32 Swordsmen
VF-33 Tarsiers
VF-41 Black Aces
VF-51 Screaming Eagles
VF-74 Be-devilers
VF-84 Jolly Rogers
VF-92 Silver Kings
VF-96 Fighting Falcons
VF-101 Grim Reapers
VF-102 Diamondbacks
VF-103 Sluggers
VF-111 Sundowners
VF-114 Aardvarks
VF-121 Pacemakers
VF-142 Ghostriders
VF-143 Pukin' Dogs
VF-151 Fighting Vigilantes
VF-154 Black Knights
VF-161 Chargers
VF-171 Aces
VF-191 Satan's Kittens
VF-194 Red Lightnings
VF-201 Hunters
VF-202 Superheats
VF-213 Black Lions
VF-301 Devil's Disciples
VF-302 Stallions
Blue Angels
VAQ-33 Firebirds
VC-7 Fleet Composite Squadron
VX-4 Evaluators
VX-5 Vampires
NMC Naval Missile Center
PMTC Pacific Missile Test Center
NWTS-PM Naval Weapons Test Squadron
VX-30 Bloodhounds
NPTC National Parachute Test Center
NWEF Naval Weapons Evaluation Facility
NATC Naval Air Test Center
NADC Naval Air Development Center
NATF Naval Air Test Facility
The title boasts over 350 previously unpublished photos plus 28 color profiles to provide the Phantom Phan with a nice cross-section of the F-4 Phantom II in US Navy service. Whether you're a Phantom Phreak, a modern aircraft modeler, or a military aviation historian, this title is a must-have for your library. Check out the previous two Phantom volumes covering the F-4 in Israeli service also reviewed here.
This title is available directly from AirDOC's website http://www.airdoc.eu/.
My sincere thanks to AirDOC for this review sample!