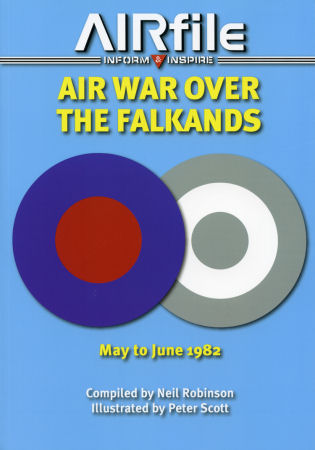 Air War Over the Falklands Book Review
| | | | |
| --- | --- | --- | --- |
| Date of Review | May 2012 | Title | Air War Over the Falklands |
| Author | Neil Robinson | Publisher | AIRfile |
| Published | 2012 | ISBN | 978-0956980236 |
| Format | 84 pages, softbound | MSRP (Euro) | €18.50 |
Review
Ignore the misspelled title.  This book superbly and conveniently details the nasty, brutish, and short Falklands aerial campaign.
Commemorating the war's 30th Anniversary, Air War over the Falklands packs dozens of subjects and schemes into 84 pithy pages – fully 70 of which sport profile and 4-view artwork.
Despite its brevity, the 1982 conflict spawned an amazing array of camouflage & markings schemes – many field-applied.  And respected author Neil Robinson portrays at least one example of every aircraft in British and Argentine combat service:
BAe Sea Harrier FRS.1
BAe Harrier GR.3
McDonnell Douglas Phantom FGR.2
Avro Vulcan B.2
Handley Page Victor K.2
BAe Nimrod MR.1/MR.2P
Boeing-Vertol Chinook HC.2
Lockheed Hercules C.1/C.1P/C.1K
Westland Scout AH.1
Westland Lynx HAS.2
Westland Wasp HAS.1
Westland Scout AH.1
Westland Wessex HU.5/HAS.3/HC.2
Westland Sea King HAR.3/HAS.5/HC.4/HAS.2A
Westland Gazelle AH.1
Dassault Mirage IIIEA
Israeli Aircraft Industries Dagger
Douglas A-4B/A-4C Skyhawk
IA.58 Pucara
English Electric Canberra B.62/T.64
Lockheed C-130E/C-130H/KC-130H Hercules
Fokker F-27-600 Friendship 
Douglas A-4Q Skyhawk
Dassault Super Etendard
Beech T-34C Turbo Mentor
Aermacchi MB.339A
Grumman S-2E Tracker
Learjet 35A
Bell UH-1H Iroquois
Boeng-Vertol CH-47C Chinook
Aerospatiale SA.330L Puma
Agusta A.109A Hirundo
Lockheed SP-2H Neptune
Sikorsky SH-3D Sea King
Westland Lynx Mk 32
Boeing 707-372C
Short Skyvan SC7-3M-400
North American F-86F-30 Sabre
Text includes a conflict overview with chronology followed, successively, by coverage of participating British and Argentine aircraft assets.  Captions detail warplane colors, codes, serials, units, and service.
Coverage omits a couple cool curiosities.  Argentina briefly pondered deploying IV Brigada Aérea F-86F-30's to Port Stanley – hence, AIRFILE's profile of Sabre C-120.  Had that occurred, the world's last combat Sabres might have worn Argentine markings.  And Prefectura Naval Skyvan PA-54 wears the field-applied scheme developed for "Operation Soberanía" – Argentina's aborted 1978 invasion of Chile during the Beagle Channel crisis.
Color reproduction drifts in spots.  The cover's Argentine roundel lacks, for instance, its distinctive azure hue.  And the green of CANA SP-2H Neptune 2-P-112 appears too light.
Check photos, too.  Some gremlins haunt Peter Scott's otherwise excellent I.A.58 profiles.  Pucarás A-533 and A-528, for instance, wore different camouflage schemes.  And that "broad band" across A-536's fin actually matched the pastel, upper-surface warpaint of A-511, -514, -522, -531, -532, and -533 – not "pale yellow".
Those Pucará remarks prompt full disclosure!  I just noted my name among the book's "Acknowledgments".  This reflects my supply of several wartime I.A.58 shots to author Robinson for May 2007's Model Aircraft Monthly.  No good deed evidently goes unpunished!
Seriously, Pucará nitpicks aside, almost every page of Air War over the Falklands roused my modeling muse.  "Falklands" or Malvinas", this handy tome should remain a terrific springboard for further study, project planning, "theme" builds, and group activities.
Recommended.
My sincere thanks to AIRfile Publications for this review sample!