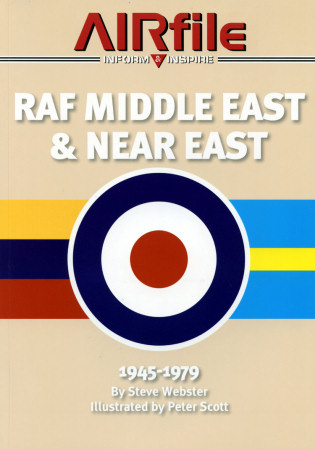 RAF Middle East Air Force & Near East Air Force: 1945-1979 Book Review
| | | | |
| --- | --- | --- | --- |
| Date of Review | February 2014 | Title | RAF Middle East Air Force & Near East Air Force: 1945-1979 |
| Author | Steve Webster | Publisher | AIRfile |
| Published | 2013 | ISBN | 9780956980281 |
| Format | 72 pages, softbound | MSRP (BP) | £19.99 |
Review
AIRfile titles, the moniker declares, aim to "inform & inspire".  And the publisher's 10th installment fully meets that challenge.
RAF Middle East Air Force & Near East Air Force: 1945-1979 includes over 200 aircraft profiles, unit badges, personal art – and one lonely map.
Fighters.  Bombers.  Transports.  Trainers.  Piston- and jet-powered.  Helicopters, too.  It's a cool, colorful compendium – certain to motivate your modeling muse.
Select your subject, too.  Spitfires.  Tempests.  Vampires.  Lancs.  Brigands.  Canberras.  Vulcans.  And much, much more.  I just wish someone offered an injection-molded Blackburn Beverley!
With editorial guidance by the peerless Neil Robinson, author Steve Webster doesn't forget historical details, either.  And in addition to extended captions, this handy volume includes four helpful chapter summaries:
1945-1950
1951-1960
1961-1970
1971-1979
Coverage recaps RAF operations in Palestine, Iraq, Kenya, Rhodesia, Cyprus, Aden and other mid 20th Century flash points.
Drawbacks?  A few.  A production SNAFU, for instance, forced inclusion of the entire Chapter 2 as a separate errata sheet.  Don't lose this.  For convenience, I would have liked color callouts citing US and British official paint standards.  It's spelled "Mesopotamia".  And the Arabic letter "nun" in "rescue" on Wessex XT604 looks funny.
No photos accompany artwork and text, either.  And unlike some previous AIRfile efforts, no references attend captions.  So without the guidance of a selected bibliography, fact-checking Peter Scott's colorful art demands extra reader research.
Still, I thoroughly enjoyed this inspirational effort.  Trouble is, with so many colorful choices, I can't pick a project to tackle!
Recommended.
My sincere thanks to AIRfile Publications for this review sample!