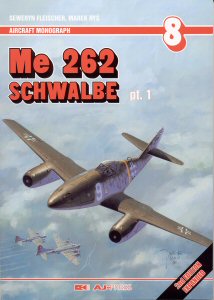 Messerschmitt Me 262 Schwalbe Part 1 Book Review
| | | | |
| --- | --- | --- | --- |
| Date of Review | July 2005 | Title | Messerschmitt Me 262 Schwalbe Part 1 |
| Author | Seweryn Fleischer & Marek Rys | Publisher | AJ Press |
| Published | 2005 | ISBN | 83-7237-137-7 |
| Format | 96 pages, softbound | MSRP (USD) | $22.99 |
Review
AJ Press has released part two of the Me 262 Schwalbe's history. This title is published in English throughout. In this volume, the author have focused on the single seat fighter and its adaptation as a "schnellbomber".
While the British and Germans were unknowingly competing to develop jet engine technology, the British developed the centrifugal flow engine which was short and wide. The Germans had developed the axial flow engine which was longer and slim. Long after the war, everyone eventually adopted the axial flow engine.
Heinkel was the first in Germany to get a jet-powered aircraft aloft, but it was Willy Messerschmitt that developed and produced the worlds first jet-powered fighter. Fighter pilots instantly saw the advantage that such an aircraft would have against the Eighth Air Force's bombers and their escort fighters. The old pilot's saying that "speed is life" was fulfilled with this aircraft. Thankfully, Hitler wasn't a fighter pilot and he insisted that the aircraft become his high speed bomber (schnellbomber). As a result, the aircraft had limited effectiveness during its limited time and the war ended before even more advanced designs could be built.
In this volume, the authors begin with the initial development of the Me 262 and walk through the different instantiations to get from concept to production. This includes the piston-powered taildragger, the jet-powered taildragger, the introduction of the nosewheel, and the variations to accommodate radar, guns, bombs, etc.
A very thorough narrative of the development of the aircraft is followed by a look at the operational history of each unit equipped with the single seat Schwalbe. The authors have provided tables outlining each of the prototype aircraft and their purpose, and later a lengthy table of each production aircraft by serial number, its assignment and fate (if known).
In addition to some excellent black and white photos, the title is also well-illustrated with color profiles and line drawings to differentiate the details of each aircraft variant.
This title is a must-have for all aviation historians and modelers alike. You can find this title and many of the other titles from AJ Press at the Air Connection website ( www.airconnection.on.ca).
I purchased my copy from Air Connection.