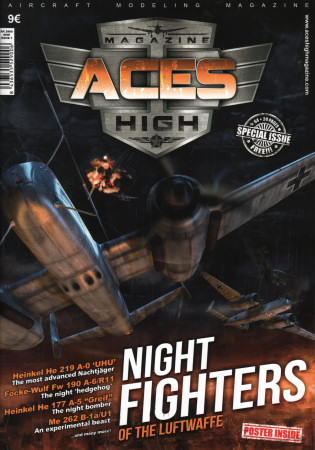 Aces High Magazine Issue 1 Review
| | | | |
| --- | --- | --- | --- |
| Date of Review | June 2014 | Title | Aces High Magazine Issue 1 |
| Author | Multiple | Publisher | AK Interactive |
| Published | 2014 | ISBN | N/A |
| Format | 84 pages, softbound | MSRP (Euro) | 9€ |
Review
If you've read some of my recent discussions and reviews, we've talked about the growing range of products and references that have targeted the armor and AFV modeler. One of the more interesting aspects of this trend is that the major portion of this momentum is coming from Spain. There are at least three different paint companies from Spain that have produced armor colors, modulators, washes, pigments, oils, etc. More recently there have been a few nice titles starting to teach this art form to the aircraft modeler. What happens when you combine a paint company with a publishing house? You have AK Interactive.
You may remember Stephen Sutton's review of Dr. Kranky's title which takes some of the armor weathering techniques into the model car world - this was also from AK Interactive. Unlike that title, AK Interactive is launching into the aircraft modeling world in a big way. They've released two sets of color-matched paints, one for the early-war Luftwaffe and the other for the RAF. These are accompanied by weathering washes tailored specifically to aircraft modelers and we'll be looking at those as well. To round out this new effort, AK Interactive has also launched Aces High Magazine which takes you through some very nice model builds and shows you how to apply those new products in your own aircraft projects.
In this premiere issue of Aces High Magazine, we have the following projects to closely examine:
Heinkel He 219A-0 'Uhu' (1/32 Zoukei-Mura)
Focke Wulf Fw 190A-6/R11 (1/32 Hasegawa)
Heinkel He 177A-5 'Greif' (1/48 MPM)
Messerschmitt Me 262B-1a/U1 (DML 1/48)
Messerschmitt Bf 110G-4 (Eduard 1/72)
Messerschmitt Bf 109E-4 (Eduard 1/48)
Painting a Luftwaffe fighter pilot
Painting a Luftwaffe Kfz.385 Tankwagen
Each of these articles provides some different techniques and approaches to painting and finishing scale models though the one that really caught my eye is the all-black Bf 109E-4 with the various modulations and washes applied to bring subtle but visible detail and wear to the model and this technique captures that look as we also see in the black surfaces of aircraft like the A-26K Invader.
This magazine is printed in English (a Spanish edition is also available) and printed on very high quality paper stock so these pages will endure quite a bit of use without wear. You'll only find 5 1/2 pages of advertising in this title including the back cover and inside front cover, so you're paying for substance, not advertisements.
This is a great first volume out of Aces High and according to the editor, the second issue is focused on World War I aviation. This is one of those publications that you'll want to keep on your shelf for future reference. Definitely recommended!
My sincere thanks to Aces High Magazine for this review copy!