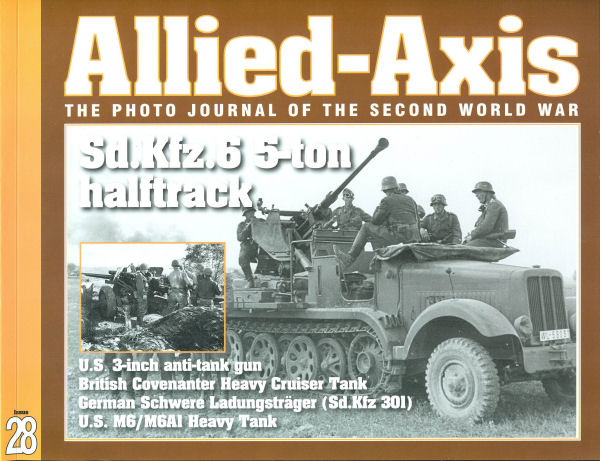 Allied - Axis Volume 28 Book Review
| | | | |
| --- | --- | --- | --- |
| Date of Review | August 2012 | Title | Allied - Axis Volume 28 |
| Publisher | Ampersand Publishing | Published | 2012 |
| Format | 96 pages, softbound | MSRP (USD) | $16.95 |
Review
Over the years I have become a fan of the "Allied-Axis" series of books from Ampersand and the latest one upholds their tradition of excellent photographic selection and presentation. This one covers the following vehicles: Sd.Kfz. 6 5-Ton Halftrack Prime Mover; 3-Inch Antitank Gun M5; US T1/M6 Heavy Tank; Sprengladungstraeger (Sd.Kfz. 301) Ausf. A and B; and Covenanter Heavy Cruiser Tank.
The first 25 pages are dedicated to the Sd.Kfz. 6 and its development. It covers the early (four road wheel) and full production (six road wheel) variants of the halftrack as well as its three main variants: Sd.Kfz. 6 engineer (pioneer-aufbau) model with four banks of seats, Sd.Kfz. 6/1 artillery model with three banks of seats and ammunition stowage, and Sd.Kfz. 6/2 self-propelled 3.7 cm Flak 37 antiaircraft gun. "Diana" fans will be disappointed that there is no coverage of that conversion, but the rest are sharp, clear and very useful for modeling the vehicle.
The next 18 pages cover the 3-Inch Antitank Gun in its very early (straight shield) and production (swept shield) variants. As usual the pictures are large, clear and varied in their coverage of the gun in use for training and in combat. Coverage shows both combat (universal pattern) and civilian pattern tires in use on the gun as well, and details of a restored weapon including its auxiliary dolly wheel assembly.
The next section covers the ill-fated US T1 Heavy Tank series, both the production M6 and M6A1 tanks as well as the T1E2 variant and even the T1E1 ("M6A2") version. Archival photos show the tank under test at Baldwin Locomotive (the builders) as well as test models in action and posed for official photos. (For anyone building the Commander Models kit - as I currently am - there is very little duplication of previous photos from the Hunnicutt "Firepower" book or other sources presented here.)
Next up is the Sd.Kfz. 301, also known as the Borgward B IV tractor. Both the early (A) and later production (B) vehicles are shown, and most useful are a selection of photos taken by the British showing one that had struck a mine being loaded on transport for later evaluation which displays a wealth of details of the vehicle.
Last is coverage of the seldom-seen British Cruiser Mark V or Covenanter tank. The photos show the tank used in training - it never saw combat due to its mechanical problems and fickle engine - as well as a lovely color shot of one on the back cover of the book. Any one planning to build the new resin kit of the Covenanter should think about this book as well.
Overall, this is another great effort and very handy for those modelers building these vehicles, or just to fill in the blanks for the history buff.