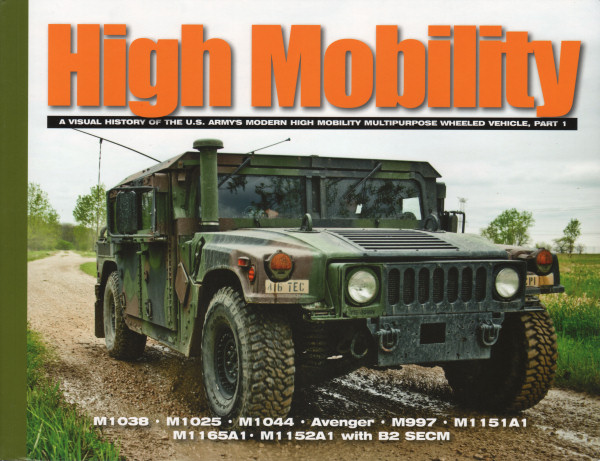 High Mobility Part 1 Book Review
| | | | |
| --- | --- | --- | --- |
| Date of Review | June 2015 | Title | High Mobility Part 1 |
| Author | David Doyle | Publisher | Ampersand Publishing |
| Published | 2015 | ISBN | 978-0-9861127-1-3 |
| Format | 120 pages, softbound | MSRP (USD) | $22.95 |
First Look
Here's the latest monograph from Ampersand Group and author David Doyle - this is the first installment covering the US military's versatile High Mobility Multi-purpose Wheeled Vehicle (HMMWV - usually pronounced Humvee). The Humvee started out as the M998 basic utility vehicle as a replacement for the previous generation(s) of utility vehicles like the M151 Mutt and M38. The larger platform of the Humvee lended itself to a variety of special configurations like the M996 and M997 ambulances, M1097 shelter carrier, and more. The vehicle became so popular that a commercial version of the Humvee (called the H1 Hummer) was produced and became somewhat of a status symbol until people tired of the fuel consumption, needing two parking spaces, etc.
Author David Doyle put together this first installment in the Humvee series with nice detail photos of the M1038 Troop Carrier, M1025 Armament Carrier, M1044 Armament Carrier, Avenger anti-aircraft weapons system, M997 Ambulance, M1151A1 Armament Carrier, M1165A1 Utility Vehicle, and M1152A1 Shelter Carrier. Much of the photo coverage in this title focuses on the M1038 looking under the hood, in the cab, and around the chassis as most of the vehicles share common details with one another. The photos in each of the remaining sections examine what is different with each variant including winches, armor, weapons mounts/shields, etc.
This title provides a good foundation of what these vehicles look like coming out of the factory or out of storage with no mission equipment installed in the cab. We will hopefully see in future installments a look at the various mission electronic systems installations either on the center console and/or in the improvised rack behind the commander's seat. In addition, I hope we'll be looking closer at the various shields, improvised armor, defensive electronics (CREW, etc.), and weapons configurations on these vehicles including the CROWS II.
With the nice variety of Humvee kits from Academy, Bronco Models, DML, Italeri, Revell, and Tamiya, this title will help you capture the details of the stock Humvee types before they go into theater and receive their unique combination of options to meet mission objectives. Definitely recommended!
My sincere thanks to Ampersand Group for this review sample!