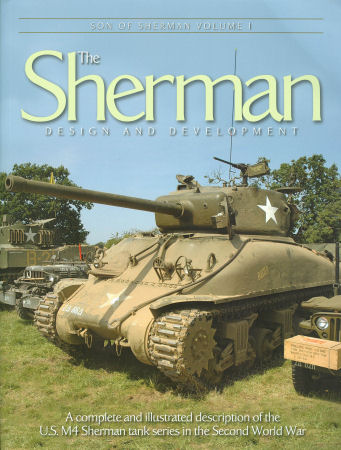 Son of Sherman Volume 1 Book Review
| | | | |
| --- | --- | --- | --- |
| Date of Review | April 2013 | Title | Son of Sherman Volume 1: The Sherman - Design and Development |
| Author | Pat Stansell, Kurt Laughlin | Publisher | Ampersand Publishing |
| Published | 2013 | ISBN | 978-0-9773781-1-1 |
| Format | 386 pages | MSRP (USD) | $55 softcover, $67 hardcover |
Review
Back in 1999 a modeler named Pete Harlem tried to do something that many people wanted: to capture all of the basic models of the famous US M4 Sherman tank in one book along with models of each variant and the items available to make them. But he only had 118 pages to work with and also made a couple of decisions that came back to haunt all concerned.
Pete knew there were differences and could highlight them, but at the time he was not aware that the US Army had ensured they were sorted out by using their blueprint or casting diagram numbers to identify each of the parts, as well as some other internal designations. While he correctly identified the differences, he simply gave them numbers and nicknames such as "Type 5-B-1 glacis and hoods) or "Type G Hull". Many modelers took this as gospel and tried to pass them off as accurate, which was unfortunately not true.
But in the intervening 14 years a lot more was discovered and published by people like Steve Zaloga, Joe Demarco and Kurt Laughlin. As a result, Pat Stansell (Military Miniatures in Review and Axis and Allied book publisher) teamed up with Kurt Laughlin to rework this popular but now dated reference into a new and state-of-the-art one. They opted for two volumes: one on the actual vehicles and all of the research and development data that sorted out all of the options by their correct names, listed serial numbers, production numbers, registration numbers, and other items of concern to modelers, and a second volume on available kits, aftermarket parts, and how to assemble accurate models of each vehicle.
On 19 April 2013 the first 110 copies of Volume 1 arrived at the AMPS 2013 show in Atlanta, Georgia, and within 24 hours less than five remained. (This was a special shipment and others were going to Ampersand's offices in Florida.)
The big question is – is it worth it? The answer is you betcha!
The book now is broken down into a "Cliff's Notes" of Sherman variants in the foreword to explain what follows as well as a glossary of terms. It then breaks down the examination of the tanks into factories, small hatch (56 degree hull) tanks, applique upgrades, large hatch (47 degree hull) tanks, final drive assemblies (e.g. bow shapes and sections), 75mm turrets, 76mm turrets, running gear, and appendices - Foundry Symbols, Registration Data, Large Hatch Tank Detail Changes, and Transportation (e.g. shipping and shipping codes)
Each section is profusely illustrated with photos of the actual vehicles and the details in question, as well as documentation cited and the proper blueprints/casting sheets for each part in question such as the D50878 and D78461 75mm turrets and the D82081 and 7054366 76mm turrets. Details are also displayed in both line drawings and tone paintings to illustrate specific variations and detail locations.
Color photos are used of restored or museum vehicles where appropriate and add a nice balance to the book.
Overall, while the book may seem expensive it is a dedicated work and covers one of the most popular tanks among modelers in a depth that it richly deserved, and is now a reference that will stand up next to the Hunnicutt series, the Russian "Top to Bottom" looks at the T-34, and the "Panzer Tracts" coverage of German vehicles.
Guess Pete hath no idea what he wrought!