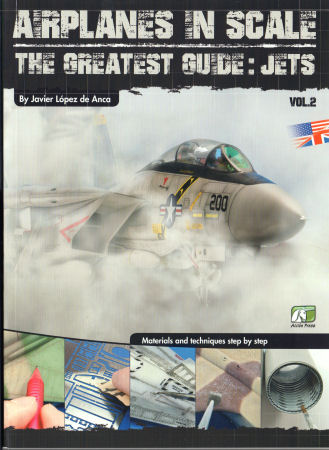 Airplanes in Scale - The Greatest Guide: Jets Book Review
| | | | |
| --- | --- | --- | --- |
| Date of Review | April 2016 | Title | Airplanes in Scale - The Greatest Guide: Jets |
| Author | Javier Lopez de Anca | Publisher | Accion Press Modelismo |
| Published | 2016 | ISBN | 978-84-95464-82-8 |
| Format | 200 pages, softbound | MSRP (Euro) | 38.00€ |
Review
There are several dimensions to our hobby of scale modeling. There is the simple engineering to assemble/recreate what the kit designers had intended from concept and design to parts in the box. There is the Advanced Modelers Syndrome (AMS) to replicate all of those details that the kit designers left out of the box. Then there is the art of recreating the appearance of the aircraft, sometimes with little more than a grainy black and white photo as your only starting point. If you subscribe to the left-brain/right-brain concept, replication of the details in rivets, colors, etc., would be left-brain whereas the weathering and artistic license would be right-brain.
It is this latter dimension, the art (right brain), that eludes many of us. Armor modelers have been making major strides in the art of painting and weathering thanks to a wealth of products coming from companies like Vallejo, AK Interactive, MIG, and others. It has become enough of a science that the detail modelers are more comfortable with these processes. Aircraft modelers have adapted some of these techniques and products used in the armor world to add subtle (and sometimes not-so-subtle) wear and tear on their aircraft subjects. If you feel a bit intimidated by the art of advanced finishing and weathering, don't feel alone. In fact, here is a title that can help you move forward in this dimension of the hobby.
Aircraft in Scale - The Greatest Guide: Jets is Volume 2 in a series that brings together a collection of builds created for this title complete with AMS detailing and painting, finishes, and weathering of six popular modeling subjects. The authors walk you through each project from beginning to end including a list of the materials used to complete each project. The subjects covered in this title include:
MiG-21bis Fishbed N (Eduard 1/48 kit)
Harrier GR.7A (Trumpeter 1/32 kit)
F-5N Tiger II (AFV 1/48 kit)
Jaguar A (Kitty Hawk 1/48 kit)
Su-33 Flanker D (Academy 1/48 Su-27 + Sol conversion)
RD-33 Engine (Great Wall 1/48 MiG-29 kit)
F-14A Tomcat (Trumpeter 1/32 kit)
I've had this title for a few weeks and it has made for some interesting study as each kit build has different approaches to achieve similar results. As with the previous volume and similar titles, this book brings together a wealth of tips and techniques aimed specifically at turbine-powered subjects. While some of the weathering is a bit heavy for my taste (real aircraft that look like a few of these examples would be found in the boneyard or worse) but the visual drama is compelling. That is why this is more art than science.
This is a great new title from Accion Press that will be one you'll want near your bench or nightstand when you're looking for ideas or inspiration to apply to your next project. This title is currently available direct from the publisher (click the link below) and will find its way into other stores soon.
Definitely recommended!
My sincere thanks to Accion Press for this review sample!