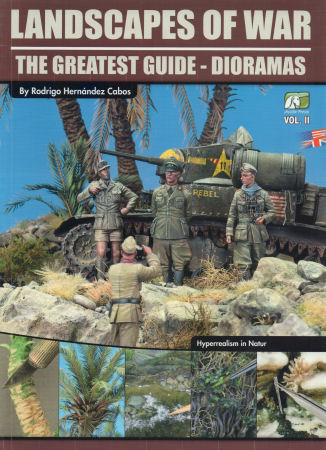 Landscapes of War - The Greatest Guide Vol.2 Book Review
| | | | |
| --- | --- | --- | --- |
| Date of Review | March 2016 | Title | Landscapes of War - The Greatest Guide Vol.2 |
| Author | Rodrigo Hernandez Cabos | Publisher | Accion Press Modelismo |
| Published | 2016 | ISBN | 978-84-95464-87-3 |
| Format | 200 pages, softbound | MSRP (Euro) | 38.00€ |
Review
Here is the second installment from Accion Press - Landscapes of War Volume 2. This is another modeler's guide in their growing reference series to help us develop and enhance our model presentation skills. In Landscapes of War Volume 1, we were given a nice tutorial on developing scenes in nature for our dioramas and vignettes, making our own trees, water effects, and more.
In this release, the author takes us through a fascinating tour of nature and building up convincing diorama bases. Starting in the Ardennes Forest, the author has taken photos of the battlefield in fall and winter, then provides a step-by-step tutorial in recreating those scenes in scale along with figures and/or vehicles in those scale scenes. This process continues through other examples of equal interest to the modeler which include:
Rommel in Tunisia
Base (Ground) Grass-Stones
The Ardennes (Ice and Icicles)
The Ardennes (The Ardennes Autumn)
Hurtgen Forest, Autumn 1944
Belarus - September 1944
Ivy: Always Present
Ferns
Normandy
There is a load of great ideas and information in this well-illustrated 200-page title (all in English by the way) which picks up from Volume 1 and adds seasonal effects to your toolbox.
This is a great new title from Accion Press that will be one you'll want near your bench or nightstand when you're looking for ideas or inspiration to apply to your next project. This title is currently available direct from the publisher (click the link below) and will find its way into other stores soon.
Definitely recommended!
My sincere thanks to Accion Press for this review sample!