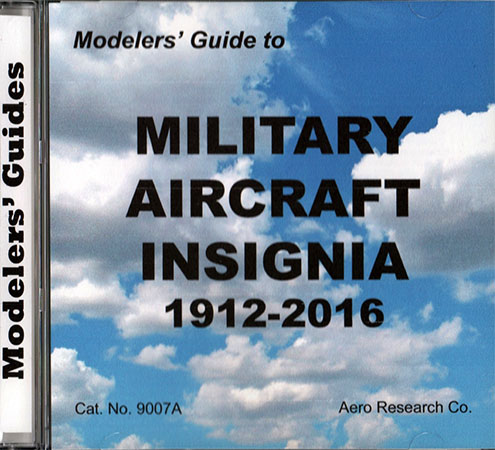 Modelers' Guide to Military Aircraft Insignia 1912-2016 eBook Review
| | | | |
| --- | --- | --- | --- |
| Date of Review | February 2020 | Title | Modelers' Guide to Military Aircraft Insignia 1912-2016 |
| Author | Jay Sherlock | Publisher | Aero Research |
| ISBN | N/A | Published | 2020 |
| Format | 65 pages, electronic (PDF) | MSRP (USD) | $11.95 |
Review
Aero Research has released the latest title in their Modelers' Guide series, this time providing a handy reference for aircraft national insignia markings. Produced in Adobe PDF format, this title has the insignia of 227 countries and 689 insignias to cover the changes made to those markings during the span of 1912-2016. All of the insignias are in full color and are noted with the date ranges that each insignia was in use.
So how can a title like this help you? First, as I research a potential project, I'll find photos with aircraft carrying national insignia I don't recognize. You can not only find the insignia in this title, you may be able to put a date to the image if the insignia of that nation in question changes periodically. Another good use is finding a nice set of decals, but again not able to identify the national markings. Pull this handy reference out and you'll find your answers. I've also needed a reference like this while out tail spotting. As I'm photographing incoming and outgoing military aircraft, I might spot an insignia that doesn't come to mind right away. One nice aspect of this format is I can load this file to my smart phone or tablet computer and use a PDF reader to access the reference while in the field. Why not use Google you might ask? If you don't know the country, you can't look up the insignia, and with over 600 possibilities...
One suggestion I would have for this reference is in the form of fin flashes. The title provides the insignia and some fin flashes, but neither the UK nor French fin flashes are provided, and while they're roughly the same color, I get the order of those colors backwards sometimes. This would make a good reference even better.
If you prefer hardcopy over PDF, Aero Research can provide that to you instead for $15.95 plus shipping.
You can purchase this title or any of their photo CDs directly from their website www.aeroresearchcds.com or via email AeroResearch@Charter.net.
My sincere thanks to Aero Research for this review sample!