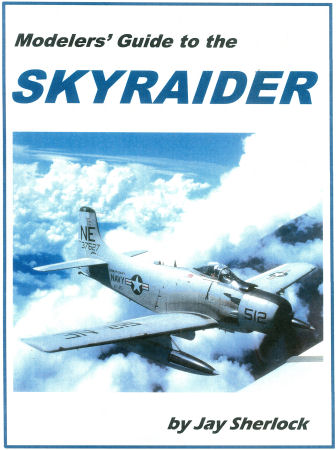 Modelers' Guide to the Skyraider Book Review
| | | | |
| --- | --- | --- | --- |
| Date of Review | September 2011 | Title | Modelers' Guide to the Skyraider |
| Author | Jay Sherlock | Publisher | Aero Research |
| ISBN | 978-0-615-52140-4 | Published | 2011 |
| Format | 104 pages, softbound | MSRP (USD) | $17.95 |
Review
Aero Research has released a new format in their product line-up. These are the folks who've been publishing a wide range of photo-reference Photo CDs that contain around 150 high-resolution images per disc. Well here is something new from them - the first printed title and with some nice timing! This is the Modelers' Guide to the Skyraider and this is a very interesting reference.
If you remember Bert Kinzey's Detail and Scale series (many of us have the whole collection in our libraries), Bert would take a subject, provide a brief introduction, then look at each variant with some photographs and scrap drawings to show the differences between each variant. At the end he would survey the available kits and aftermarket products available at that time.
Jay Sherlock has taken this into a better direction for the modeler. First, all the pages are in color. Second, he is focused on the model more than the history and operation of the aircraft. For example in the first image below, he lists recommended kits in 1/48 and 1/72 scale and then references them against the drawing to identify the changes to be made to replicate one of the 35 Skyraider variants in this title. In this example, to modify the Tamiya or Hasegawa A-1H/J kits to an AD-2D nuclear test drone, you make the specific changes identified in the drawing and explained in the list below.
In addition to these great modification checklists and which kits are the best to start from for any given variant, this title also provides a one-stop reference in the appendices for Bureau Numbers, Operating Units, Surviving Aircraft, and available references.
Of course a modeling reference wouldn't be complete without a line-up of available kits and a discussion of the merits of each one. At press time, the author acknowledges the upcoming Zuikei-Mura and Trumpeter Skyraider kits in 1/32 scale, but details about them are not yet available. Nevertheless, you can easily use this title to modify or update any of these kits to a particular variant or subvariant covered here.
I was pleasantly surprised to see this new format from Aero Research and I'll be putting it right to work as I finish up my own Skyraider project and await the arrival of my pre-ordered Zuikei Mura masterpiece.
You can purchase this title or any of their photo CDs directly from their website www.aeroresearchcds.com or via email AeroResearch@Charter.net.
My sincere thanks to Aero Research for this review sample!