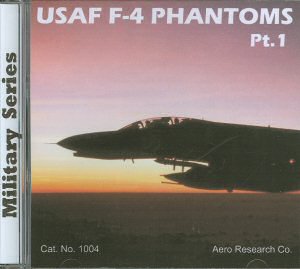 USAF F-4 Phantoms Part I Photo CD Review
| | | | |
| --- | --- | --- | --- |
| Date of Review | June 2007 | Title | USAF F-4 Phantoms Part I |
| Publisher | Aero Research | Published | 2007 |
| ISBN | None | Format | 159 very high resolution JPEGs |
| MSRP (USD) | $12.95 | | |
Review
Aero Research has returned with the second installment in their F-4 Phantom II series. The first was Part One of the US Navy Phantoms, this title gets us started with Part One of the USAF Phantoms. Each CD released will have at least 150 high resolution photographs for your reference.
In this installment, we have USAF F-4 Phantoms Part I. I used my image browser to scan through some of the aircraft on the disc and I was quite impressed with the selection of aircraft. Taking a closer look at the data in the directory, most of these images are provided at 4000 pixels wide. These represent a sampling of one or more aircraft from each USAF fighter wing that operated the Phantom with some nice representative shots of the aircraft in different decades, where applicable. I found two familiar 'faces' with the two Luke AFB aircraft in D-Day and Korean War ID stripes from the early 1970s.
For the tail spotter, you'll see these aircraft from a variety of time periods to that you'll get representative configurations of the airframe during different phases of its operational life. You'll also be able to the aircraft in its pre-drab camouflage schemes.
In addition to a nice variety of color and marking examples from USAF Phantom operations from around the world, close inspection will also show you some of the more subtle details like the ECM pod on the inboard station of that RF-4C or the nice loadout of Mk.117s heading 'downtown' via that F-4 in the revetment.
According to the publisher, future subjects include: Reno Unlimiteds 1964-1974, Thud: F-105 Thunderchiefs, F-8 Crusaders Part I, and Classic Propliners.
This is a nice selection of imagery that you won't find available in such clarity and size. This title is recommended!
You can purchase this reference or any of their other photo CDs directly from their website www.aeroresearchcds.com or via email AeroResearch@Charter.net.
My sincere thanks to Aero Research for this review sample!