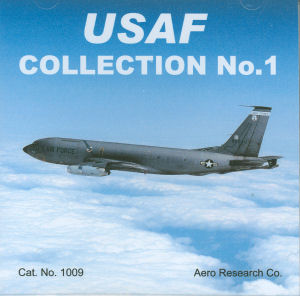 USAF Collection #1 Photo CD Review
| | | | |
| --- | --- | --- | --- |
| Date of Review | May 2008 | Title | USAF Collection #1 |
| Publisher | Aero Research | Published | 2007 |
| ISBN | None | Format | 151 very high resolution JPEGs |
| MSRP (USD) | $12.95 | | |
Review
Aero Research is back with a new series in their growing line-up of great offerings. This new photo CD features a random sampling of USAF aircraft photos that were taken anywhere between the mid 1960s to present. None of these photos are from the government photo archives, these are all compiled from the same excellent range of professional (or very skilled) aviation photographers. Most importantly, all of these photos are of aircraft still in service, no derelicts, boneyard storage, or museum pieces. Many of them were photographed in various theaters around the world.
This first installment in the series is USAF Collection #1, which means that you'll get an interesting variety of operational aircraft from USAF service. The subjects included in this collection include:
A-1 Skyraider
A-10 Thunderbolt II
A-26/B-26 Invader
A-37 Dragonfly
B-47 Stratojet
B-50 Superfortress
B-52 Stratofortress
B-58 Hustler
B-66 Destroyer
C-7 Caribou
C-12
C-29
C-47
C-54
C-97 Stratofreighter
C-118
C-124 Globemaster
C-130 Hercules
C-131 Samaritan
C-135 Stratotanker
F-4 Phantom II
F-15 Eagle
F-16 Fighting Falcon
F-102 Delta Dagger
F-106 Delta Dart
F-111
H-1 Iroquois
H-60 Blackhawk
O-2
PQ-14
T-1
T-6 Texan II
T-43
U-3
U-6
For the tail spotter, you'll see these aircraft from a variety of time periods to that you'll get representative configurations of the airframe during different phases of its operational life. You'll also be able to see the aircraft in a variety of color schemes. For the modeler, you'll see lots of good details and color information for tackling that next project.
This is a nice selection of imagery that you won't find available in such clarity and size. This title is recommended!
You can purchase this reference or any of their other photo CDs directly from their website www.aeroresearchcds.com or via email AeroResearch@Charter.net.
My sincere thanks to Aero Research for this review sample!