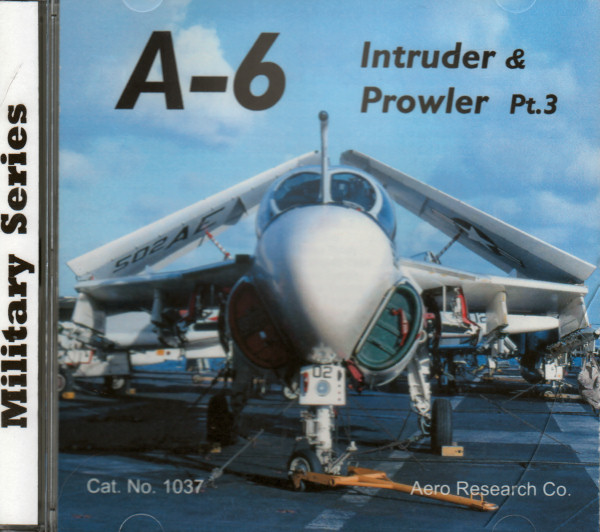 A-6 Intruder and Prowler Part 3 Photo CD Review
| | | | |
| --- | --- | --- | --- |
| Date of Review | January 2014 | Title | A-6 Intruder and Prowler Part 3 |
| Publisher | Aero Research | Published | 2013 |
| ISBN | None | Format | 176 very high resolution JPEGs |
| MSRP (USD) | $12.95 | | |
Review
Aero Research has returned with a nice compilation of A-6 Intruder and EA-6B Prowler imagery in part 3 of their A-6 coverage. This title has a very nice sampling of A-6A, A-6B, A-6C, KA-6D, A-6E, EA-6A, and EA-6B airframes from the Intruder's early days over Vietnam to present Prowlers.
Once again, I used my image browser to scan through some of the aircraft on the disc and I was quite impressed with the selection of aircraft. Most of these examples were taken on the ground though you can see some nice airborne examples here as well. This selection includes aircraft from NSWC, VA-34, VA-35, VA-42, VA-52, VA-55, VA-65, VA-75, VA-85, VA-95, VA-115, VA-128, VA-145, VA-155, VA-165, VA-176, VA-196, VA-304, VAH-123, VAQ-129, VAQ-130, VAQ-131, VAQ-132, VAQ-133, VAQ-134, VAQ-135, VAQ-137, VAQ-138, VAQ-139, VAQ-140, VAQ-142, VAQ-209, VAQ-309, VMA(AW)-121, VMA(AW)-224, VMA(AW)-242, VMA(AW)-332, VMA(AW)-533, VMAQ-2, VMAQ-3, VMAQ-4, VMAT(AW)-202, and VMCJ-1.
For the modeler, you'll see lots of good details and color information for tackling that next project.
This is a nice selection of imagery that you won't find available in such clarity and size. This title is recommended!
You can purchase this reference or any of their other photo CDs directly from their website www.aeroresearchcds.com or via email AeroResearch@Charter.net.
My sincere thanks to Aero Research for this review sample!