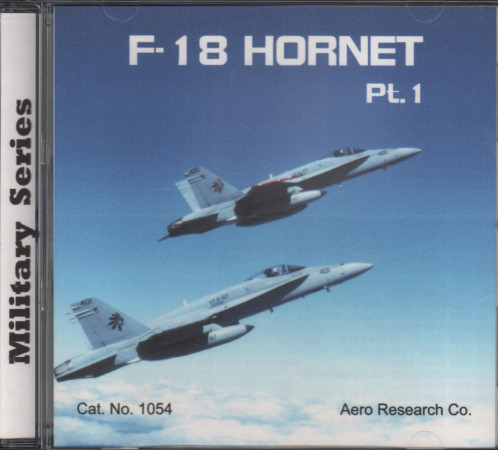 F-18 Hornet Part 1 Photo CD Review
| | | | |
| --- | --- | --- | --- |
| Date of Review | November 2014 | Title | F-18 Hornet Part 1 |
| Publisher | Aero Research | Published | 2014 |
| ISBN | None | Format | 150 very high resolution JPEGs |
| MSRP (USD) | $12.95 | | |
Review
Aero Research has started a new series with part 1 of the F-18 Hornet. This is the first dedicated disc of this subject and like with previous titles, this disc is full of images that haven't appeared in other publications and provide a nice cross-section of aircraft and units employing the 'bug'. There are 150 images in this installment and provide a selection of F/A-18A, F/A-18B, F/A-18C, F/A-18D Hornets as well as F/A-18E and F/A-18F Super Hornets. Coverage ranges from 1981 to 2010 and provide examples from the following units:
Blue Angels
NATC
NAWC
NFWS
NSAWC
VF-151
VFA-2
VFA-11
VFA-15
VFA-22
VFA-25
VFA-27
VFA-32
VFA-34
VFA-37
VFA-81
VFA-82
VFA-83
VFA-86
VFA-87
VFA-94
VFA-97
VFA-105
VFA-106
VFA-113
VFA-125
VFA-131
VFA-132
VFA-136
VFA-137
VFA-146
VFA-147
VFA-151
VFA-192
VFA-195
VFA-203
VFA-213
VFA-303
VFA-305
VFC-13
VMFA(AW)-121
VMFA(AW)-225
VMFA(AW)-533
VMFA-115
VMFA-122
VMFA-134
VMFA-235
VMFA-251
VMFA-312
VMFA-314
VMFA-321
VMFA-323
VMFA-451
VMFA-531
VX-4
Once again I used my image browser to scan through the aircraft on the disc and I was quite impressed with the selection of aircraft. For the modeler, you'll see lots of good details and color information for replicating these great examples. For the enthusiast and modeler alike, you can browse through a nice variety of high-resolution images of some very nice aircraft!
This is a nice selection of imagery that you won't find available in such clarity and size. This title is recommended!
You can purchase this reference or any of their other photo CDs directly from their website www.aeroresearchcds.com or via email AeroResearch@Charter.net.
My sincere thanks to Aero Research for this review sample!