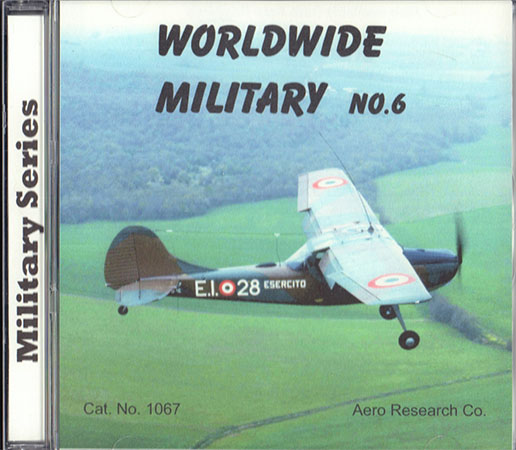 Worldwide Military No.6 Photo CD Review
| | | | |
| --- | --- | --- | --- |
| Date of Review | October 2016 | Title | Worldwide Military No.6 |
| Publisher | Aero Research | Published | 2016 |
| ISBN | None | Format | 165 very high resolution JPEGs |
| MSRP (USD) | $12.95 | | |
Review
Aero Research is back with a new series in their ever-growing line-up of photo-reference CD-ROMs. In this installment, we look at a variety of museum exhibit and display aircraft around the United States and even a few examples from Europe. Once again, I used my image browser to scan through some of the aircraft on the disc and I was quite impressed with the selection of aircraft. Taking a closer look at the data in the directory, these images are provided at 4000 pixels wide.
Among the aircraft represented here:
Broussard 239
Broussard 312
Buccaneer
C-46 Commando
C-130 Hercules
Canberra
Comet
CAP-10
CAP-20
CF-188 Hornet
CP-140 Aurora
F-1
F-4 Phantom II
F-86 Sabre
F-101 Voodoo
F-104 Starfighter
Falcon 20
Gnat
Harrier
Hawk
Hunter
Jet Provost
King Air
Lightning
MB-326
Mi-8 Hip
Mi-24 Hind
MiG-23 Flogger
MiG-29 Fulcrum
MS.760
Mu-2
N.262
Noratlas
O-1 Birddog
P-2 Neptune
P-3 Orion
Sea Hawk
Sea Vixen
Super Mystere
T-2
T-33 Shooting Star
This is a nice selection of imagery that you won't find available in such clarity and size. For the tail spotter, you'll see these aircraft from a variety of time periods to that you'll get representative configurations of the airframe during different phases of its operational life. You'll also be able to see many of these aircraft in a variety of color schemes. This title is recommended!
You can purchase this reference or any of their other photo CDs directly from their website www.aeroresearchcds.com or via email AeroResearch@Charter.net.
My sincere thanks to Aero Research for this review sample!