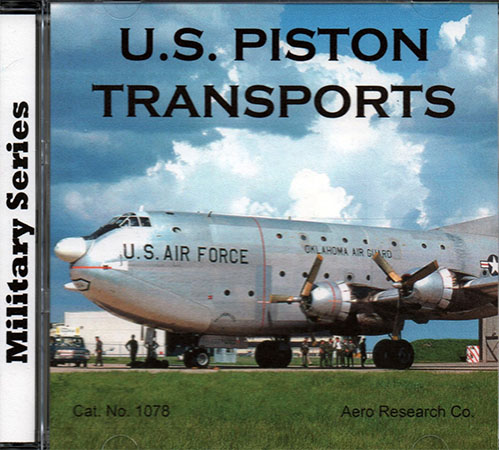 U.S. Piston Transports Photo CD Review
| | | | |
| --- | --- | --- | --- |
| Date of Review | July 2019 | Title | U.S. Piston Transports |
| Publisher | Aero Research | Published | 2019 |
| ISBN | None | Format | 151 very high resolution JPEGs |
| MSRP (USD) | $12.95 | | |
Review
Aero Research has published this collection of piston-powered airlifters which provide an interesting cross-section of military airframes from before World War II through the late 1970s. Some of the images are full color while the older images are high-resolution black and white.
I used my image browser to scan through some of the aircraft on the disc and I am still quite impressed with the selection of aircraft. According to my browser's statistics, all 151 images are 4000 x 2400 pixels, plenty of clear resolution to check out the details.
This latest installment includes images of:
C-1 Trader
C-7 Caribou
C-45 Expeditor
C-46 Commando
C-47 Skytrain
C-54 Skymaster
C-74 Globemaster
C-87 Packet
C-97 Stratolifter
C-117 Skymaster
C-118 Liftmaster
C-121 Constellation
C-123 Provider
C-124 Globemaster II
C-131 Samaritan
and more
For the tail spotter, you'll see these aircraft from a variety of time periods to that you'll get representative configurations of each airframe during different phases of its operational life. For the modeler, you'll see lots of good details and unique markings information for tackling that next project.
This is a nice selection of imagery that you won't find available in such clarity and size. This title is recommended!
You can purchase this reference or any of their other photo CDs directly from their website www.aeroresearchcds.com or via email AeroResearch@Charter.net.
My sincere thanks to Aero Research for this review sample!