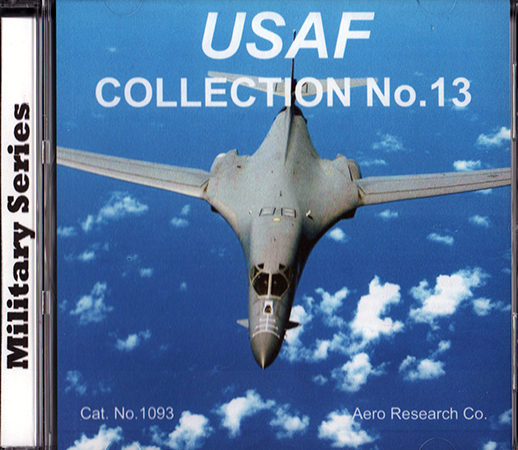 USAF Collection No.13 Photo CD Review
| | | | |
| --- | --- | --- | --- |
| Date of Review | January 2021 | Title | USAF Collection No.13 |
| Publisher | Aero Research | Published | 2019 |
| ISBN | None | Format | 152 very high resolution JPEGs |
| MSRP (USD) | $12.95 | | |
Review
Aero Research is back with a new title in their ever-growing line-up of photo-reference CD-ROMs. In this installment, we have USAF Collection No.13 which follows No.12 released almost two years ago. I used my image browser to scan through the aircraft on the disc and this title maintains Awero Research's great selection of aircraft. Many of these photos were taken of these aircraft on the flightline, in flight, or at the occasional static display. Taking a closer look at the data in the directory, these images are provided at 4000 pixels wide. While most of the photos are in color, a number of older images are in high-resolution black and white, and in this selection, the timeframe goes back to the 1950s.
Among the aircraft represented here:
A-7 Corsair II
A-17
AT-9
AT-11
B-1 Lancer
B-10
B-26 Invader
B-29 Superfortress
B-52 Stratofortress
C-7 Buffalo
C-47 Skytrain
C-97 Stratolifter
C-119 Flying Boxcar
C-121 Constellation
C-124 Globemaster II
C-130 Hercules
C-131 Samaritan
C-135 Stratotanker
C-140
F-4 Phantom II
F-5 Tiger II
F-80 Shooting Star
F-82 Twin Mustang
F-94 Starfire
F-100 Super Sabre
F-102 Delta Dagger
F-104 Starfighter
F-105 Thunderchief
F-111
SR-71 Blackbird
T-33 Shooting Star
T-39 Sabreliner
X-15
YF-23
This is a nice selection of imagery that you won't find available in such clarity and size. This title is recommended!
You can purchase this reference or any of their other photo CDs directly from their website www.aeroresearchcds.com or via email AeroResearch@Charter.net.
My sincere thanks to Aero Research for this review sample!