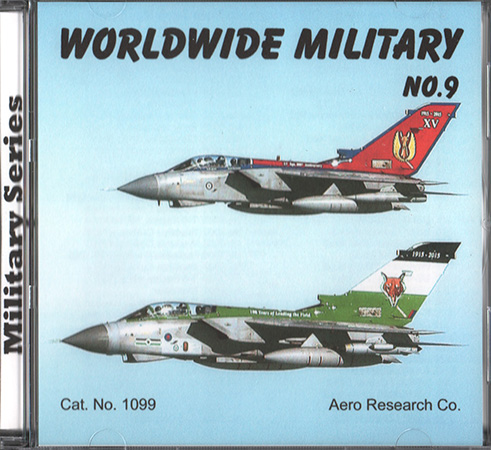 Worldwide Military No.9 Photo CD Review
| | | | |
| --- | --- | --- | --- |
| Date of Review | November 2021 | Title | Worldwide Military No.9 |
| Publisher | Aero Research | Published | 2021 |
| ISBN | None | Format | 152 very high resolution JPEGs |
| MSRP (USD) | $12.95 | | |
Review
Aero Research is back with the latest installment of their Worldwide Military series. In this installment, we look at another nice variety of military aircraft from around the globe. Once again, I used my image browser to scan through some of the aircraft on the disc and I was quite impressed with the selection of aircraft and as usual, these images are provided at 4000 pixels wide.
Among the aircraft represented here:
AU-24
Belfast
BN-2A
C-47 Skytrain
C-54 Skymaster
C-119 Flying Boxcar
Dagger
DC-8
DHC-2 Beaver
Dominie
Etendard 4
F-5 Freedom Fighter/Tiger II
F-16 Fighting Falcon
F-84 Thunderstreak
F-86 Sabre
F-100 Super Sabre
Gulfstream III
H-1 Iroquois
HS.748
HU-16 Albatross
J32 Lansen
J35 Draken
JA37 Viggen
Jaguar
L-188
Magister
MiG-23 Flogger
MiG-27 Flogger
Mirage 3
Mirage 4
Mirage F1
Mu-2
Mystere
O-2 Skymaster
OV-10 Bronco
P-2 Neptune
P-3 Orion
P-47 Thunderbolt
PC-7
SF.260
Skyvan
T-33 Shooting Star
Tornado
This is a nice selection of imagery that you won't find available in such clarity and size. For the tail spotter, you'll see these aircraft from a variety of time periods to that you'll get representative configurations of the airframe during different phases of its operational life. You'll also be able to see many of these aircraft in a variety of color schemes. This title is recommended!
You can purchase this reference or any of their other photo CDs directly from their website www.aeroresearchcds.com or via email AeroResearch@Charter.net.
My sincere thanks to Aero Research for this review sample!