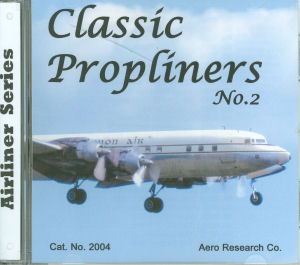 Classic Propliners Part 2 Photo CD Review
| | | | |
| --- | --- | --- | --- |
| Date of Review | October 2009 | Title | Classic Propliners Part 2 |
| Publisher | Aero Research | Published | 2009 |
| ISBN | None | Format | 160 very high resolution JPEGs |
| MSRP (USD) | $12.95 | | |
Review
Aero Research has released their next photo reference CD, this covering a variety of commercial turboprop aircraft. This title wasn't originally on their release list, but they've clearly acquired quite an impressive collection to publish.
Once again I used my image browser to scan through the aircraft on the disc and I was quite impressed with the selection of aircraft. In this release, there are a nice variety of (mostly) piston-powered airliners that were still in service in the late 1960s and into the early 1970s. A few of these photos are newer than that, but the vast majority are from a time that is getting more difficult to find materials for.
The line-up of aircraft on this disk cover the following aircraft types:
ATL-98 Carvair
Boeing 247
Boeing 377 Stratocruiser
Boeing 377 Mini-Guppy
Br.763 Provence
Bristol 170
Britannia
C-46
Convair 340
Convair 440
Convair 580
DC-3
DC-4
DC-6
DC-7
Goose
L-049 Constellation
L-749 Constellation
L-1049 Constellation
L-1649 Constellation
Martin 404
Viscount 700
Viscount 800
For the modeler, you'll see lots of good details and color information for a trip down memory lane or perhaps to tackle a scale airliner kit for a change of pace. For the enthusiast and modeler alike, you can browse through a nice variety of high-resolution images of some very nice aircraft!
This is a nice selection of imagery that you won't find available in such clarity and size. This title is recommended!
You can purchase this reference or any of their other photo CDs directly from their website www.aeroresearchcds.com or via email AeroResearch@Charter.net.
My sincere thanks to Aero Research for this review sample!