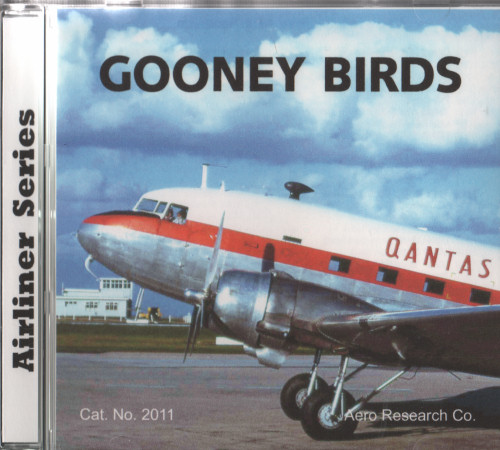 Gooney Birds Photo CD Review
| | | | |
| --- | --- | --- | --- |
| Date of Review | October 2015 | Title | Gooney Birds |
| Publisher | Aero Research | Published | 2015 |
| ISBN | None | Format | 158 very high resolution JPEGs |
| MSRP (USD) | $12.95 | | |
Review
Aero Research is back with a new title - 'Gooney Birds'. This new photo CD features a nice range of mostly civilian DC-3, C-47, and C-117 aircraft in a variety of liveries. These are all compiled from the same excellent range of professional (or very skilled) aviation photographers. Most importantly, all of these photos are of aircraft still in service, no derelicts, boneyard storage, or museum pieces. Unfortunately, not many of the aircraft depicted in these photos still exist today.
One old friend is the first photo in the stack to the right. That is Jack Conroy's Turbo-Three, a DC-3 that was re-engined with a pair of Rolls Royce Dart turboprop engines. I remember driving past this aircraft parked on the northeast ramp of Santa Barbara airport back in the late 1960s/early 1970s when I was learning to fly. The really long nacelles allowed the lighter Dart engines to keep the center of gravity of the aircraft which was originally designed to mount a pair of large radial (piston) engines. While this design didn't catch on, another variation was more successful by replacing the two radial engines with a pair of PT6 turboprop engines mounted directly to the firewall, and to compensate for the center of gravity, a third engine was mounted to the nose of the aircraft. No photos of that configuration are on this disc unfortunately.
The remaining photos depict a variety of aircraft in service with from variety of carriers performing cargo and/or passenger service or are aircraft in government service. A few of the aircraft are (were) privately owned, and a few of the aircraft photos depict some rare military schemes including a Naval Arctic Research Lab C-117 with civil registration.
For the tail spotter, you'll see these aircraft from a variety of time periods to that you'll get representative configurations of the airframe during different phases of its operational life. You'll also be able to see the aircraft in a variety of color schemes. For the modeler, you'll see lots of good details and color information for tackling that next DC-3/C-47 project.
This is a nice selection of imagery that you won't find available in such clarity and size. This title is recommended!
You can purchase this reference or any of their other photo CDs directly from their website www.aeroresearchcds.com or via email AeroResearch@Charter.net.
My sincere thanks to Aero Research for this review sample!