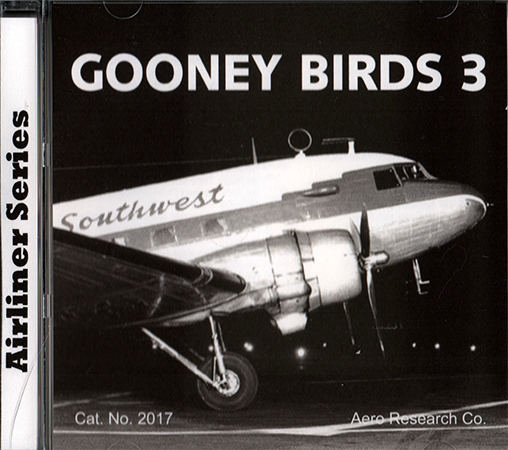 Gooney Birds Pt.3 Photo CD Review
| | | | |
| --- | --- | --- | --- |
| Date of Review | September 2019 | Title | Gooney Birds Pt.3 |
| Publisher | Aero Research | Published | 2019 |
| ISBN | None | Format | 150 very high resolution JPEGs |
| MSRP (USD) | $12.95 | | |
Review
Aero Research is back with part three of - 'Gooney Birds'. This latest photo CD features a nice range of civilian DC-3 and C-47 examples from around the world. These are all compiled from the same excellent range of professional (or very skilled) aviation photographers. Most importantly, most of these photos are of aircraft still in service, though few of the aircraft depicted in these photos still exist today.
This collection consists of a variety of C-47s that were pressed into civil service after the war as well a selection of DC-3s that found their way into some interesting air carriers. While some provided comfortable passenger service in their second and third lives, others were no doubt hauling chickens and goats around the countryside.
I was particularly pleased to see the third photo shown here of Super Turbo Three. When I first saw this aircraft, it was still only Turbo Three powered by a pair of Rolls Royce Dart engines. Jack Conroy was in the business of modifying aircraft, in in this case by replacing the radial engines with the Dart engines. He later replaced the bulky Darts with lighter PT6 engines, and they had to extend the motor mounts forward and add a third engine on the nose to compensate for the changes in weight and balance. I last saw this aircraft doing a demonstration at the 1979 Paris Airshow. You'll note the Super Guppy in the background - another creation of Jack Conroy.
For the tail spotter, you'll see these aircraft from a variety of time periods to that you'll get representative configurations of the airframe during different phases of its operational life. You'll also be able to see the aircraft in a variety of color schemes. For the modeler, you'll see lots of good details and color information for tackling that next DC-3/C-47 project.
This is a nice selection of imagery that you won't find available in such clarity and size. This title is recommended!
You can purchase this reference or any of their other photo CDs directly from their website www.aeroresearchcds.com or via email AeroResearch@Charter.net.
My sincere thanks to Aero Research for this review sample!