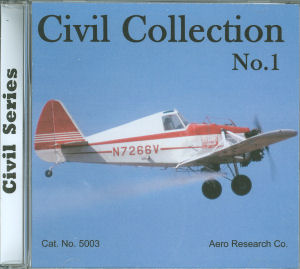 Civil Collection No.1 Photo CD Review
| | | | |
| --- | --- | --- | --- |
| Date of Review | August 2008 | Title | Civil Collection No.1 |
| Publisher | Aero Research | Published | 2008 |
| ISBN | None | Format | 154 very high resolution JPEGs |
| MSRP (USD) | $11.95 | | |
Review
Aero Research has released the first installment of a civil aircraft collection. There is a huge untapped library of images out there that have gone overlooked until now, and this disk provides a nice sampling of subjects to start this topic off.
Once again I used my image browser to scan through the aircraft on the disc and I was quite impressed with the selection of aircraft. In this release, there are 154 images of 118 different subjects, all of which are shots of civil aircraft still in operations ranging in time from the mid-1960s to present, and nice examples from the US, UK and Canada.
All of these images are provided at 4000 pixels wide, all are full-color and are out of a variety of collections. Many of the images provide a single example of a given aircraft type (since there is a WIDE range of subjects in this category to choose from and the potential for quite a few good sequels to this series. To give an example of the breadth of this coverage, we'll list the subjects which have three or more images:
Aero Commander 1121
BAC 1-11
Beech 18
Boeing 337
Britten Norman BN-2
Cessna 188
Cessna 500
Convair 580
Curtiss C-46
Dassault Falcon 10
Dassault Falcon 20
Dassault Falcon 50
de Havilland DHC-2
de Havilland DHC-3
de Havilland DHC-5
de Havilland DHC-6
de Havilland DH-125
de Havilland Dove
de Havilland Heron
de Havilland Tiger Moth
Dornier Do 27
Douglas DC-3
Douglas DC-6
Douglas DC-7C
Fairchild F-27
Grumman Goose
Grumman Gulfstream
Grumman Gulfstream II
Grumman Mallard
Grumman Widgeon
Handley Page Jetstream
IAI 1123
Lear 25
Lockheed Jetstar
Lockeed L-188
Martin 404
For the modeler, you'll see lots of good details and color information for tackling you next civil aircraft project
According to the publisher, the next subject is F-16 'Viper' Part 1.
This is a nice selection of imagery that you won't find available in such clarity and size. This title is recommended!
You can purchase this reference or any of their other photo CDs directly from their website www.aeroresearchcds.com or via email AeroResearch@Charter.net.
My sincere thanks to Aero Research for this review sample!