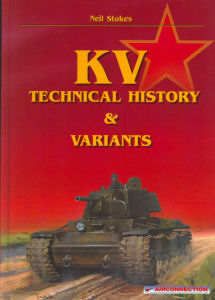 KV Technical History & Variants Book Review
| | | | |
| --- | --- | --- | --- |
| Date of Review | May 2010 | Title | KV Technical History & Variants |
| Author | Neil Stokes | Publisher | Armagedon/Airconnection |
| Published | 2010 | ISBN | 978-0-9781091-2-7 |
| Format | 560 pages, hardbound | MSRP (USD) | $130.00 |
Review
When all of its attributes and failings are assessed, the Soviet KV series tanks would have to be judged as a good bad tank. Good in that it served well where it was used and for many months was an extreme problem for German forces, but bad in that it was poorly engineered, overweight, underpowered, and ill-suited for Soviet-style mobile warfare. As an example, in his reedited memoirs of General Erhard Raus Pete Tsouras cites the example of the first time Raus and his forces came up against a KV-1 guarding a crossroad.
On 24 June 1941 Raus' "Kampfgruppe R" discovered that a KV-1 had cut their supply line, stopped and did not budge. It had destroyed 12 German vehicles and inflicted a large number of casualties right off the bat. A 5 cm Pak 38 battery was deployed to kill the KV. After eight hits, the KV-1 spotted the battery and destroyed two guns, damaged the other two, and wiped out most of their crews. Later, an 8.8 cm Flak 36 was brought up to take out the pesky tank. Alas, the KV-1 spotted the 88 first and took it out.
On 25 June Raus sent engineers in at night to blow up the tank. No luck, and the engineers also took some casualties. Finally, by sacrificing some infantry to feint at the tank, another Flak 36 was towed into position and put seven AP rounds into the KV-1, apparently knocking it out. But as the victorious Germans approached the KV, the turret began to swing around and point at them once more. Finally, a brave soldier ran up to the tank and stuck a grenade in through one of the 88mm holes, which finally killed off the tank's crew when it detonated. Held up for more than 24 hours, Raus felt that this was going to be a much longer war than the Germans had planned.
The reason for this was simple: the KV had massive armor, an effective if somewhat weak 76.2mm gun, and 7.62mm machine guns with lots of ammunition. What it did not have was a reliable engine and transmission, and thus many other KV tanks were turned into impromptu pillboxes by their poor mechanical condition.
Even so, the KV has been a relatively popular modeling subject for nearly 40 years since the first Tamiya kit came out in 1972. But good references have been hard to find, and some of the better ones released in recent years have unfortunately been low-circulation publications in Russian. Neil Stokes has been a fan of the big beast for many years, and has now spent four years researching, drawing, and organizing what has to be the ultimate technical history of the KV series tanks.
Note that this book is a history of what the KV tanks are, not how they came to be. The best overall history of KV development and improvement is by Maksim Kolomiyets and is so far virtually a Russian only publication, albeit some sections have been translated and used. But then again, modelers are rarely interested in history but more in details and variants, and this book answers those questions to a fare-thee-well.
The book covers the evolution of the KV series tanks from the earliest prototype, later dubbed "Establishment Series Tank U-1" by the Soviets, through its evolution into the KV and KV-1 series, the bloated KV-2 offshoot, and finally to the functional and useful KV-1s and KV-85 series tanks; coverage of the SU-152 "Zverboy" self-propelled gun is also included. Each modification is covered with a drawing in 1/35 scale and also a photo where possible. Each of the major weapons are shown – L-11, F-32, ZIS-5 and M-10S guns.
Photos are also included from the technical assessments of two KV-1 Model 1941 tanks which were provided to the US and British governments by the Soviets in late 1942 – chassis number 11306 to the UK and chassis number 11502 to the US at Aberdeen Proving Ground. These show a new KV-1 tank with its kit and stowage in place as well as what its original condition interior was like.
The book begins with a short history of the KV series tanks and production developments. It then turns to the specific changes in the tank's components made over the years and variations in the components. The first section of 65 pages looks at the hull, fenders and applique armor variations of the KV series tanks. Next, 46 pages cover the running gear and driveline.
A modeler's favorite topic, external stowage, takes up 32 pages. Here Neil has provided drawings with a key included; while not a true Soviet key, it is designed to help modelers locate parts for replication. He numbers the fender "bays" so that he can indicate items like standard late-model stowage bins were normally found in bays 4, 5 and 9. This is handy for use in modeling but once again, based on the unfortunate example of "The Modeler's Guide to the Sherman", does NOT reflect Soviet practice and is not something a Russian would recognize.
Lastly is the second identified by the Soviets as "Assembly 57" – the turret. Coverage takes up more than 60 pages and all of the variants are included as well as descriptions of each one and what changes were made from other variants.
The next section covers armament and ammunition. This includes the guns, some coverage of sights (which were pretty simple by anyone else's standards), machine guns, flamethrowers from the KV-8 subvariants, and crew weapons.
Once this is completed, Neil then walks through the tanks by their completed forms and use. 85 pages are dedicated to the KV-1 proper and its variants, as well as field modifications and other changes. Many of these photos are from captured German sources showing happy Germans gloating over the demise of the tanks, but unlike the hapless "T-34 Mythical Weapon" book that gloried in those photos Neil has picked out each of the details present in each photo and how it applies to the evolution of the KV tank. This run covers the KV s malenkoy bashni, KV-1, KV-1s and finally KV-85.
Next is the KV-2 series, covered in the same manner and running for about 40 pages. The KV s bol'shoy bashni and KV-2 are both covered. This is followed by coverage of the KV-8 and KV-8S flamethrower tank conversions for 12 pages.
Lastly Neil covers the SU-152 self-propelled gun and provides details of its design and use.
A section then follows on organization, color and markings of KV heavy tanks in Soviet service. This includes organizational breakouts over the tank's operational career as well as general colors and a sampling of known markings, with identification provided where known.
Since a number of KV tanks were captured by both the Finns and the Germans, a special section covers their conversions and use by those forces with specific details where any standardization was attempted. The Poles also had SU-152s at the very end of the war and to begin their postwar armed forces.
The last sections comprise the annexes. Neil provides a listing of known preserved KV series tanks (out of more than 5,000 total vehicles of all types built there are but a handful left), a source bibliography, a glossary of key terms and abbreviations, and – most important to the modeler – 24 1/35 scale four-view plans of the various models of the KV series tanks as well as 22 full color broadsides.
Several years ago I did a four-part series on the KV-1 for the magazine "Military Modelling" (Vol. 34 Nos. 9-12) which looked at modeling the tank. I used two different kits to create the model illustrated, basically a Tamiya KV-1 s ehkranami turret on an Eastern Express hull with a variety of details and Model Kasten tracks. Neil has included NO modeling information here, but notes in the foreword this is due to the constantly changing market and available kits. Whereas for 30 years the only kit available was the venerable Tamiya one, today you can also find Eastern Express, Zvezda. Don Association and Trumpeter kits of various KV tank variants as well as the SU-152. He provides a selection of items and comments on his website ( http://www.4bogreen.com) for modelers to use, as it is faster and easier to update than to provide new items for a book of this size and cost. He notes this should be considered as the "companion" piece to the book.
Overall – and as a point of full disclosure, I did some translation support for Neil when he was writing the book and needed assistance on either Soviet manuals or sources such as the Kolomiyets book – it is one of the best modeler-oriented reference works going. If you like Soviet armor or want to build a really nice "Klim" (the nickname for Kliment Voroshilov, the tank's namesake) it is worth the cost over several lesser publications.
Thanks to Neil Stokes for the review copy.