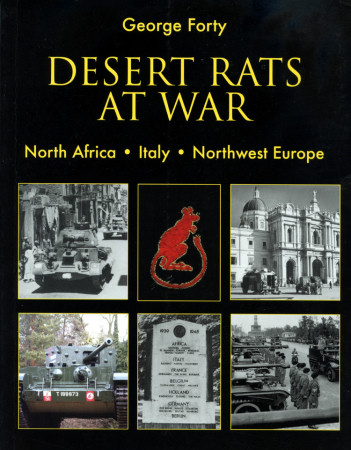 Desert Rats at War Book Review
| | | | |
| --- | --- | --- | --- |
| Date of Review | March 2015 | Title | Desert Rats at War |
| Author | George Forty | Publisher | Air Sea Media |
| Published | 2014 | ISBN | 9780957691520 |
| Format | 224 pages, softbound | MSRP (USD) | $29.95 |
Review
The Western Desert.  Italy.  Overlord.  France.  Germany.  And victory.
The British Army's 7th Armored Division – the legendary "Desert Rats" – forged matchless repute for prowess and valor during World War II.
Now it's the subject of an excellent homage from Air Sea Media – Desert Rats at War, available in North America from Casemate.  Contents originally appeared as two volumes in 1975 and 1977.  And "this expanded and updated edition," the cover jacket notes, "combines the two books."
From its roots in 1938's Mobile Division to 1945's victory parade in Berlin, author George Forty, past director and curator of the Bovington Tank Museum, brilliantly illumines the whole terrific tale.
Coverage concentrates on two wartime theaters – North Africa and Europe.  Organization.  Leaders.  Equipment.  Personnel.  Actions.  And anecdotes.  Lots of anecdotes.
During the final engagement of Operation Compass, for instance, elements of the 7th Armored Division traversed 150 miles of uncharted Libyan desert in just 30 hours to intercept Fascist Italy's retreating Tenth Army.
Cornering enemy remnants at Sidi Saleh, Desert Rats bagged over 20,000 Italian prisoners, six generals, 216 guns, 112 tanks and 1,500 trucks.  Commonwealth casualties?  Just nine killed and 15 wounded.
Forty also musters mounds of mundane minutiae.  Decoys.  Radio sets.  Postal services.  Chaplaincy notes.  Even songs.  You get a real flavor for the daily drudge of a Desert Rat.
The enormously entertaining effort sports hundreds of photos, illustrations, maps, tables and charts.  Sidebars and extended captions also augment the account.  And handy chronologies and an index neatly round things off.
After serious difficulties in Normandy, the 7th Armored Division rallied, advancing through France and Holland into Germany – and final victory.  That's where Forty caps his coverage.
So raise the blue flag, grab this ripping read – and follow Forty into action with the Desert Rats at War!
Recommended!
My sincere thanks to Air Sea Media for this review sample!