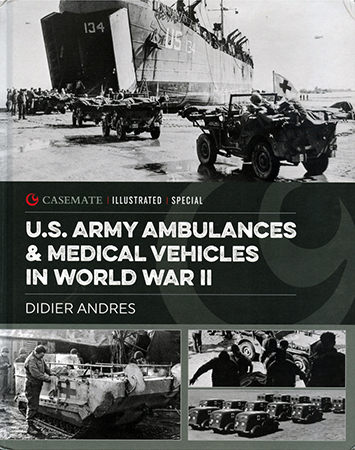 U.S. Army Ambulances and Medical Vehicles in World War II Book Review
| | | | |
| --- | --- | --- | --- |
| Date of Review | August 2020 | Title | U.S. Army Ambulances and Medical Vehicles in World War II |
| Author | Didier Andres | Publisher | Aviation Collectables |
| Published | 2020 | ISBN | 9781612008653 |
| Format | 144 pages, softbound | MSRP (USD) | $37.95 |
Review
"Of all the participants in World War II," Didier Andres writes, "the United States developed an unparalleled medical structure."
"The efforts this nation expended to ensure their soldiers' survival were unsurpassed," he continues, "and the means used went beyond anything else that existed at the time."
Now Andres confirms those contentions in an intensely illuminating history of U.S. Army Ambulances and Medical Vehicles in World War II – part of the "Casemate Illustrated" range.
His slim, succinct study spans 160 pages across 16 lavishly illustrated chapters:
Introduction
Metropolitan Ambulances
Multipatient Ambulances
Field Litter Carriers
Front-Line Ambulances
Medic Jeeps
Rescue Teams
Medical Trucks
Reverse Lend-Lease
Field Ambulances
Ambulance Markings
Field Ambulances On the Front
Different Missions, Different Uses
The American Red Cross
The American Field Service
Enigmas
An ambulance is, well, an ambulance – right?
Not so. Andres rightly reminds readers that today's ambulances differ noticeably in equipment and purpose from their less amply furnished WWII ancestors.
Nor does Andres restrict remarks to U.S. Army topics – or even to WWII vehicles. Text also notes U.S. Navy subjects and trailers. And coverage even cites postwar developments.
B&W photos and color shots illustrate the account. Tables of vehicle specifications, serials, and orders also supplement the survey. And artwork illustrating official regulations provide authoritative markings details.
Modeling an Operation Overlord ambulance? Look here.
What a cool compendium! Wheeled, tracked, towed, rail-adapted, and converted, intriguing vehicles of all sort season U.S. Army Ambulances and Medical Vehicles in World War II.
Make Andres' handy hardback your introduction to this surprisingly absorbing subject.
With thanks to Casemate Publishing for the review copy!