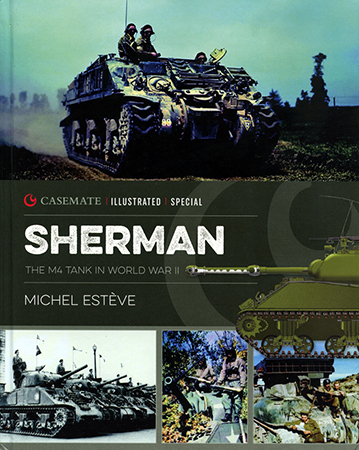 Sherman: The M4 Tank in World War II Book Review
| | | | |
| --- | --- | --- | --- |
| Date of Review | October 2020 | Title | Sherman: The M4 Tank in World War II |
| Author | Michel Esteve | Publisher | Casemate |
| Published | 2020 | ISBN | 9781612007397 |
| Format | 240 pages, hardbound | MSRP (USD) | $49.95 |
Review
Rugged, reliable M4 Shermans spearheaded Western Allied armies in crushing the Axis during WWII.
Now Sherman: The M4 Tank in World War II – part of the Casemate Illustrated range – surveys the saga in just 240 pithy pages.
Sexing your Sherman subject? Deciphering a hybrid? You need this handy hardback.
Author Michel Esteve deftly dissects the fabled vehicle family – inside and out – in astonishing depth and detail.
Armament. Turrets. Hulls. Suspension. Tracks. Engines. Transmissions. Crew compartments. Camouflage. And markings.
American. Commonwealth. French. Polish. Soviet. Even captured German.
Variants. Derivatives. Field modifications. Projects. Prototypes. Transporters. Decoys, too.
The lavishly illustrated effort sports hundreds of color and B&W images – period photos, preservation shots, interior details, variant schematics, archival excerpts, armament and ammunition drawings, and more.
A concluding chapter briefly recaps international postwar Sherman use. And an appendix, glossary and abbreviations list, and selected bibliography complete contents.
Nitpicks?
For a vehicle of American origin, why employ metric data in tables? That's Japanese "Type 94" – not "T94". And the author probably means "overestimated" – not "underestimated" – on page 224.
But so what? Esteve has penned a patently painstaking, but happily handy guide to the storied Sherman.
Make it your introduction to this legendary tank family.
Robustly recommended!
With thanks to Casemate Publishing for the review copy!