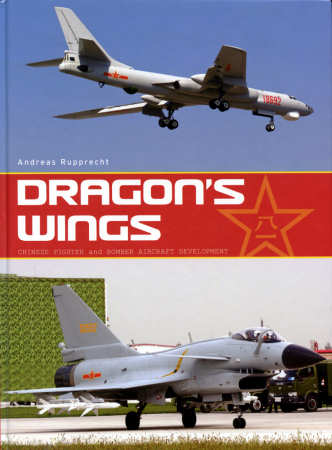 Dragon's Wings: Chinese Fighter and Bomber Aircraft Development Book Review
| | | | |
| --- | --- | --- | --- |
| Date of Review | October 2013 | Title | Dragon's Wings: Chinese Fighter and Bomber Aircraft Development |
| Author | Andreas Rupprecht | Publisher | Classic Publications |
| Published | 2013 | ISBN | 9781906537364 |
| Format | 224 pages, hardbound | MSRP (USD) | £30.00 |
Review
In introducing his book, Andreas Rupprecht candidly identifies rapidly changing events as the chief obstacle to accurately chronicling Chinese aviation history.
"[N]ew developments are happening in China all of the time," he writes, "and one can be certain that new information will appear immediately afterwards.  That is the risk one has to take."
I, for one, am glad he took that chance: Rupprecht penned Dragon's Wings, his thoroughly informative, highly entertaining chronicle from Classic – an imprint of Ian Allan Publishing.
Subtitled "Chinese Fighter and Bomber Aircraft Development", the lavishly illustrated, 224-page account details development of frontline combat types.  Most intriguingly, it also reveals numerous secret Chinese projects.  And along the way, it corrects many myths, mistakes and misimpressions.
Coverage begins with the earliest Soviet jets in PLAAF/PLNAF service, segues to licensed production of MiG-17 and MiG-19 variants, recaps the native JJ-1 trainer, and continues with the first largely indigenous fighter designs and MiG-21 developments.
That's where Rupprecht unearths nuggets like the Dong Feng (DF) 107 and DF-113 – advanced concepts that confirmed maturing Chinese design talents.  But when they failed to achieve production, China successfully developed domestic derivatives of the MiG-21F – the Chengdu-built J-7, the vastly enlarged J-8 and, eventually, the almost unrecognizably related FC-1/JF-17 "Thunder".
Next comes a fascinating chapter on further "In-House" projects.  Coverage thereafter hits crescendo with sections on today's modern Chinese designs – the stillborn J-9, world-class J-10 and stealth J-20.  Some of these allegedly equal the best world's best warplanes.  Did Israel materially aid J-10 development?  The author's research offers no definitive answer.
I especially enjoyed Rupprecht's segue into strike, attack and bomber types – notably Q-5 and H-6 variants, my personal favorites.  How about that turboprop Il-10?  And that torpedo-carrying Q-5B?  Or that Xi'an H-7 study?  The last resembled a hybrid Tu-16 and B-52!
Dozens of rare photos, color profiles and helpful sidebars augment text.  Charts conveniently distill variant details.  And Bai Wei's digital illustrations of Chinese projects provide intriguing peeks at what might have been.
Our Chinese cups truly runneth over.  And this volume perfectly complements other recent references – including Chinese Air Power (Midland), Chinese Air Power (Harpia) and Chinese Aircraft (Hikoki).
But with extensive coverage of key designs – almost a medley of monographs – Classic's Dragon's Wings stands apart.  Author Rupprecht offers plenty of previously unseen information for a truly compelling chronicle.  I really enjoyed this enormously informative effort.
Roundly recommended!
With thanks to Ian Allan for the review copy:
Ian Allan Publishing Ltd
Terminal House
Shepperton
TW17 8AS
U.K.