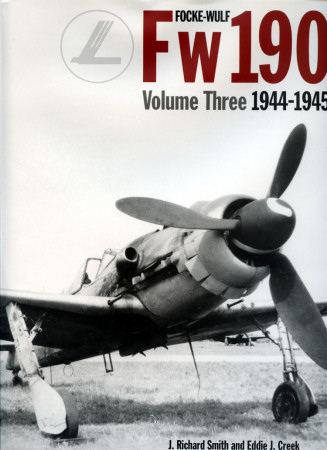 Focke Wulf Fw 190: Volume Three 1944-1945 Book Review
| | | | |
| --- | --- | --- | --- |
| Date of Review | December 2013 | Title | Focke Wulf Fw 190: Volume Three 1944-1945 |
| Author | J. Richard Smith, Eddie J. Creek | Publisher | Classic Publications |
| Published | 2013 | ISBN | 9781906537319 |
| Format | 336 pages, hardbound | MSRP (BP) | £55.00 |
Review
The third and final volume in J. Richard Smith and Eddie J. Creek's landmark study of Nazi Germany's Focke-Wulf Fw 190 fighters details the twilight years of this legendary warplane.
During 1943, Luftwaffe concern with the growing obsolescence of Bf 109s and BMW-powered Fw 190s reached apex.
But successfully mating the Junkers Jumo 213 A inline to Würger's versatile airframe breathed new life into the classic design.  Add fuselage and tailplane modifications for enhanced performance and stability.  And the potent Fw 190D series leaped to life.
Focke-Wulf Fw 190, Vol. 3: 1944-1945 from Classic – an imprint of Ian Allan Publishing – starts there.  Coverage recaps all "Dora" variants – including experimental, stillborn and proposed derivatives.  Notes on performance of captured Fw 190Ds against American, British and Soviet fighters proved especially illuminating.
But "Dora" development didn't mark the end of BMW-powered Fw 190s.  Their story continued through war's end – and beyond.
This volume resumes that narrative with summer 1944 operations over France.  Facing overwhelming Allied air superiority after the Normandy landings, Hitler's attenuated assets retreated home.  Text next turns to the Russian and Italian fronts – and thence to Reich defense efforts.  Squeezed by enemies on all sides, Fw 190 units provided key aerial and ground defenses as Germany slid toward defeat.
"Doras" proved part of those events.  And Classic's narrative partially recaps Fw 190D operations in informative sections on Nazi Germany's death throes – including Sonderwaffen developments.  And how about those concluding notes on Würger design studies – especially jet-powered and swept-wing proposals?  Illuminating!
But the Fw 190 saga didn't end with Nazi Germany's collapse.  Fw 190s actually entered French production, continued in Turkish service and saw testing by victorious Allied powers.  A concluding section recaps all these.
Archives, anecdotes and intel sumptuously spice the story.  Hundreds of photos and drawings – including tech-manual illustrations – further season the study.  And Janusz Swiation's brilliant color profiles rank among the best, most accurate I've seen.
Sidebars, tables and maps also spotlight key personalities, units, operation, design developments, deployments, equipment – and more.  Want details of the Revi 16 B gunsight?  How about Platzschutzschwarm use?  Mistel proposals?  They're here – and more.
What a book!  What a series!  Appendices, endnotes and indices neatly wrap things up.  I'll repeat: Classic has clearly achieved the standard for Würger histories.
Roundly recommended!
With thanks to Ian Allan for the review copy.