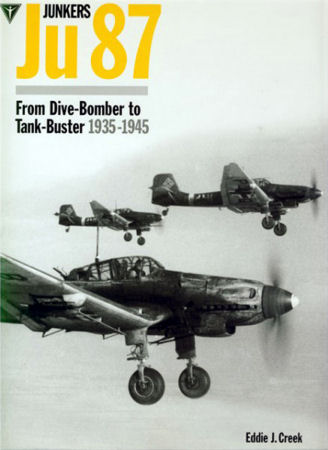 Junkers Ju87: From Dive-Bomber to Tank-Buster 1935-1945 Book Review
| | | | |
| --- | --- | --- | --- |
| Date of Review | September 2012 | Title | Junkers Ju87: From Dive-Bomber to Tank-Buster 1935-1945 |
| Author | Eddie J. Creek | Publisher | Classic Publications |
| Published | 2012 | ISBN | 9781906537289 |
| Format | 336 pages, hardbound | MSRP (USD) | $64.95 |
Review
CLASSIC – an imprint of Ian Allan Publishing – steadily sets world standards for superior aviation histories.
But the latest from acclaimed author Eddie J. Creek exceeds even those.  And Junkers Ju87: From Dive-Bomber to Tank-Buster 1935-1945 offers a sumptuous study of this controversial combatant.
What a magnificent monograph it is.  Reflecting latest research, coverage chronologically courses from design and development through operational use to decline and defeat.
Creek's well crafted contents consume 336 pages and ten chapters – all helpfully annotated and indexed.  Hundreds of photos – including dozens of detail shots – flavor this fulsome feast.  Janusz Swiation's stunning color profiles provide plenty of modeling inspiration.  And Maciek Noszczak's 1:72 scale drawings helpfully trace the evolution of Junkers' legendary design.
Stuka service spanned all of World War II.  Far from obsolete after the Battle of Britain, the dive-bomber proved admirably adaptable to evolving Luftwaffe needs – including anti-shipping, anti-armor and night-harassment roles.  And Creek covers all.
I especially enjoyed sagas of stillborn shipboard Stukas.  Entertaining, too, were notes on international employment – Italian, Romanian, Hungarian, Bulgarian, Croatian and Slovak.  At war's end, for instance, no more than six operational Romanian "Doras" performed yeoman service against their erstwhile allies.
I really loved Junkers Ju87: From Dive-Bomber to Tank-Buster 1935-1945.  Biographic sidebars of principal personalities add a human face to this notorious Nazi.  And an enormously useful appendix conveniently charts every Ju 87 production version.  I only wish author Creek included a selective bibliography!
Robustly recommended.
With thanks to Ian Allan for the review copy:
Ian Allan Publishing Ltd
Terminal House
Shepperton
TW17 8AS
U.K.