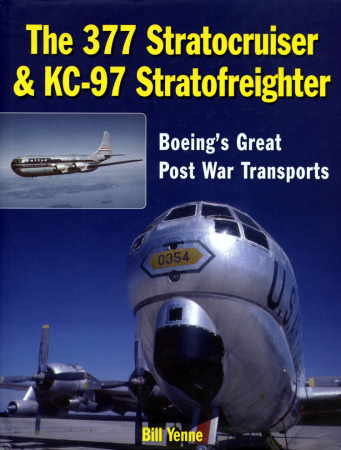 The 377 Stratocruiser and KC-97 Stratofreighter Book Review
| | | | |
| --- | --- | --- | --- |
| Date of Review | September 2014 | Title | The 377 Stratocruiser and KC-97 Stratofreighter |
| Author | Bill Yenne | Publisher | Crecy |
| Published | 2014 | ISBN | 9780859791793 |
| Format | 208 pages, hardbound | MSRP (USD) | $39.95 |
Review
Bill Yenne traces the terrific tale of Boeing's first post-WWII airliners, transports and tankers in The 377 Stratocruiser & KC-97 Stratofreighter from Crecy – available North America from Specialty Press.
Yenne spends the introduction and first two chapters connecting dots – among personalities, manufacturers, airlines, government and military – shaping prewar, wartime and postwar aircraft market developments.
Facing fierce competition from Douglas and Lockheed, Boeing leveraged its legendary B-29 bomber to produce a transport for non-stop transcontinental and transoceanic use.  The resulting Model 377 combined the performance, range, capacity, economy, comfort and – yes – luxury customers demanded.
Coverage then shifts to service.  In 1948, for the first time, more Americans – 52% – traversed the Atlantic Ocean by air than by ship.  Like the B-29, Boeing's pressurized design flew high, fast and far – meeting postwar market demands for long-range travel.
Orders ensued.  And in 1949, a Pan American 377 inaugurated regular transatlantic service from New York.  Flights to points west and south quickly followed.  And the Stratocruiser became a familiar sight on long-range airline routes.
Yenne capably covers all.  And he seasons his story with notes on Stratocruiser interior designs, seating configurations, advertising, marketing and even meals preparation.  As one wag wryly quipped in the New York Times, "'until they put in ballrooms, swimming pools and shuffleboard courts, this will have to do'."
Still, Boeing sold only 56 Model 377 Stratocruisers.  Douglas and Lockheed, by contrast, delivered several hundred each of their competitive airliners.
The United States Air Force, however, redressed the difference with orders for nearly 900 Model 367 C-97 Stratofreighters – cargo, airlift, "air evac", airborne command, intelligence-gathering and, most importantly, tanker variants.  And two subsequent sections deftly detail these.
Why were C-97s so critical to Korean War wounded?  Whence did today's ubiquitous "flying boom" system originate?  Heck, why do USAF air-to-air refuelers carry that "K" prefix?  Author Yenne bares all.
Two more chapters on "mature" civil and military variants follow.  The advent of commercial jets and turboprops signaled the aging Stratocruiser's swansong.  And the "rapid pace" of jet-bomber technology, Yenne observes, rendered KC-97s "obsolescent".
Adding wing jets on KC-97Ls – identical to outboard pods on B-47s – temporarily boosted Stratofreighter performance and prolonged longevity, especially in Air National Guard service.  The author also includes notes on Israeli and Spanish military service.
Yenne then reveals some really fascinating extrapolations of Boeing's 367/377 line – like the monstrous Model 497 "Mothership" project, and various jet- and turboprop-powered studies.  Contents close with final Stratocruiser operations and "Guppy" conversions.  Paul Spellman's comments on flying Stratocruisers and "trade-in" programs proved especially illuminating.
The saga surprisingly survives.  And as Yenne astutely observes, "It is a testament that ... that the venerable airframe was still carrying payloads in the second decade of the twenty-first century".
Crecy's picture-packed opus includes hundreds of photos, drawings and tech-manual excerpts – many in color.  Fourteen appendices, addenda and index wrap things up.
Addressing Academy's 1:72-scale effort?  Tackling Minicraft's 1:144 kits?  Grab this excellent effort.
Recommended!
My sincere thanks to Specialty Press for this review sample!