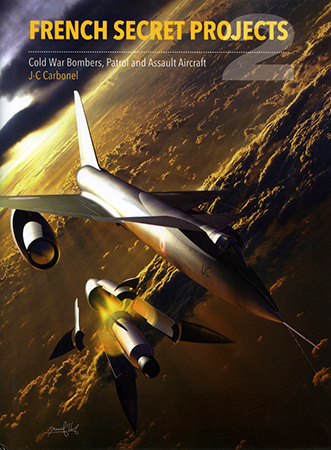 French Secret Projects: Cold War Bombers, Patrol and Assault Aircraft (Vol 2) Book Review
| | | | |
| --- | --- | --- | --- |
| Date of Review | October 2018 | Title | French Secret Projects: Cold War Bombers, Patrol and Assault Aircraft (Vol 2) |
| Author | Jean-Christophe Carbonel | Publisher | Crecy |
| Published | 2017 | ISBN | 9780859790048 |
| Format | 264 pages, hardbound | MSRP (USD) | $44.95 |
Review
Jean-Christophe Carbonel continues his scintillating survey of post-WWII warplane projects in the picture-packed French Secret Projects 2 – available in North America from Specialty Press.
Subtitled "Cold War Bombers, Patrol and Assault Aircraft" and second of Crécy's two-volume study, the handsome, 264-page hardback spans 14 spellbinding sections:
The First Jet Bombers
Heavy Fighters and Strike Aircraft
The Quest for the Supersonic Bomber
The Minerve Programme
Strike and Training
In the Field
COIN is Minted
Low-speed VTOL
Helicopters
Assault Transports
Maritime Patrol and Anti-Submarine
Atomic Power
Saucers
Strange Ways
In the wake of WWII, French-produced Nazi German designs – production and proposed – played roles in France's recovering aviation industry. And introductory remarks duly note these.
Nearly every subsequent page brings jaw-dropping revelations. How about those futuristic Stratodyne "E" VTOL designs? And the minuscule, truck-mounted, compressed-air-powered SO 1221 Djinn "air-motorcycle"? Or the singular Ludion "one-man flying device"? And that host of intriguing flying car studies?
Coverage also includes studies that achieved production – like the SO 4050 Vautour and SNCASE SA 341 Gazelle.
Design derivatives, too. Like Fouga's turboprop Magister version, Nord's C-161 Transall jet transport proposal, and Breguet's Br 764 naval patrol Sahara variant.
Piston-engine. Turboprop. Jet-propelled. Even anti-gravity.
Really.
Carbonel covers Dr Marcel Pages' anti-gravity experiments. Oh, and flying saucer studies, too.
No kidding.
And on. And on. And on.
Photos, drawings, and models – most from official and manufacturer sources – illustrate the account. Chronologically arranged entries recap design, development, timelines, and fates. And dimensional, performance, and armament specifications – actual and proposed – accompany many.
A glossary, selected bibliography, and index lists conclude contents.
Wow. What a ride.
With both French Secret Projects volumes, Crécy cements its reputation as world leader in aircraft project, proposal, and prototype references. Grab this intensely illuminating, immensely intriguing effort.
Roundly recommended!
With thanks to Specialty Press for the review copy.