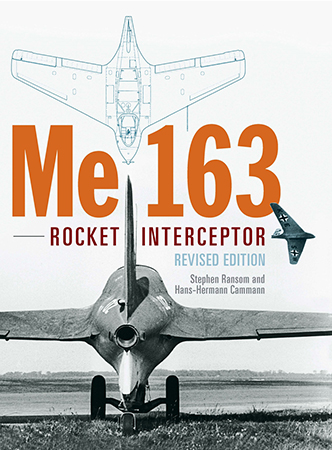 Me 163: Rocket Interceptor Book Review
| | | | |
| --- | --- | --- | --- |
| Date of Review | June 2022 | Title | Me 163: Rocket Interceptor |
| Author | Stephen Ransom, Hans-Hermann Cammann | Publisher | Classic – an imprint of Crécy |
| Published | 2022 | ISBN | 9781906537579 |
| Format | 406 pages, hardbound | MSRP (USD) | $79.95 |
Review
Seeking the conclusive study of Messerschmitt's controversial Komet?
Grab this vital volume.
Billed as a "revised and updated combined edition" of the now rare, two-volume 2002-2003 set, Me 163: Rocket Interceptor from Classic – an imprint of Crecy Publishing – packs both books into one hefty hardback.
Available in North America from Specialty Press, coverage spans 16 chunky chapters and ten appendices across 406 picture-packed pages.
Contents commence with three thorough background sections on aerodynamic and propulsive antecedents. Coverage then segues to two chapters on Me 163 Komet development and production – and thence to operational details.
And do I mean details. Metaphorical mountains of mind-numbing minutiae dominate everything. Actions. Specifications. Airframe. Armament. Undercarriage. Camouflage & markings. And much, much more.
Remaining parts illumine Luftwaffe training efforts, derivatives, and developments. And notes on Imperial Japan's example of Me 163 convergent evolution – the MXY8 and J8M1 – and details of captured Komets follow these.
Finally, sidebars, biographies, appendices, annotations, references, and indices neatly wrap things up.
Sections include period photos, interior and exterior detail shots, cine stills, and extended captions. Drawings, plans, tech-manual excerpts, archival images, and maps also augment the lavishly illustrated account.
Model and markings mavens will especially love it. Color profiles, inset plates, isometric paintings, badges, and other heraldry season the study. And where possible, authors reference individual aircraft by codes and Werknummern.
Units. Actions. Annecdotes. Personalities. Markings. Armament. Losses. Casualties. Times. And dates. Classic's colossal Komet chronicle covers it all.
Seeking the long out-of-print set? Expect to pay as much as US$300-$400 for an original pair. So save all that money – and grab Classic's updated, one-volume update for far less!
Robustly recommended!
My sincere thanks to Specialty Press for this review sample!