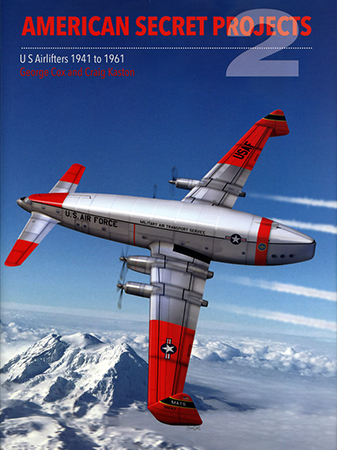 American Secret Projects 2 Book Review
| | | | |
| --- | --- | --- | --- |
| Date of Review | October 2019 | Title | American Secret Projects 2 |
| Author | George Cox, Craig Kaston | Publisher | Crecy |
| Published | 2019 | ISBN | 9781910809167 |
| Format | 304 pages, hardbound | MSRP (USD) | $44.95 |
Review
The subtitle tells it all.
American Secret Projects 2 – published by Crécy and available in North America from Specialty Press – chronologically charts "US Airlifters 1941-1961".
Authors George Cox and Craig Kaston explore the "significance of the ability to move an assault force by air" in nine chunky chapters across 304 picture-packed pages:
Eighty Years of American Airlift
The Challenges of Airlifter Design
Airlifter Development in the Second World War
Learning the Lessons of War
Stretching Yesterday's Technologies
Development of Heavy Airlift Capability
Strategic Air Command's Tanker-Transport
The Emergence of the Modern Airlifter
New Light Airlifters
An illuminating "conclusion" – surveying "American airlifter development in perspective" during the twenty-year period after 1941 – neatly wraps things up.
Subject sections include historical, design, and development notes. Where appropriate, coverage adds brief delivery and service commentary. And accompanying tables list aircraft powerplants dimensions, and performance data.
The familiar. The similar. And the peculiar. Text traverses a panoply of production planes, prototypes, projects, and proposals.
I forgot, for instance, that the piston-engine C-123 derived from the XCG-20 glider. Imagine converting AA's 1/144 C-123 to the jet-powered Chase XC-123A with underwing pods from Hobbycraft's 1/144 B-47. It really flew!
Now imagine a jet-powered Convair XC-99 – itself a B-36 derivative. Designated "Model 6", it "combined the fuselage of the advanced C-99 with the wing, empennage and engines of the YB-66". Authors wryly admit that it was "no more successful than its predecessor"!
Production design extrapolations and improvements, in fact, command considerable consideration. And among the most fascinating, I thought, were wing and engine enhancements to Boeing's classic C-97 family. How about that turboprop-powered gull-wing Model 367-60? You can even see echoes of C-97s in the downright fanciful Model 497!
Nor do contents exclusively explore "airlifters" – or even tankers. Douglas, for instance, "performed a quick study" to configure the C-54 as a bomber. One option considered a bomb-laden "belly gondola" grafted to the transport's fuselage. Shades of Fw 200 Condors!
Hundreds of photos, drawings, archival images, tech-manual excerpts, cut-aways, scale models, and action paintings illustrate the effort.
Crécy's admirably indexed account also includes extended captions and a handy glossary. Just don't expect annotations – somewhat disquieting in a work of this size and scope.
But – wow – what a ripping read. I savored every page.
Rabidly recommended!
My sincere thanks to Specialty Press for this review sample!