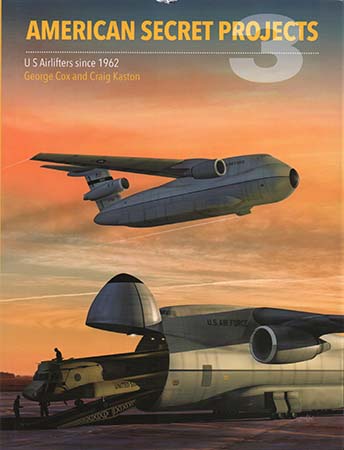 American Secret Projects 3 Book Review
| | | | |
| --- | --- | --- | --- |
| Date of Review | August 2022 | Title | American Secret Projects 3 |
| Author | George Cox, Craig Kaston | Publisher | Crecy |
| Published | 2020 | ISBN | 9781910809334 |
| Format | 360 pages, hardbound | MSRP (USD) | $44.95 |
Review
In American Secret Projects 2, the authors tackled military airlift from 1941 to 1961. In this American Secret Projects 3 installment, they pick up the story from 1962 to (near) present.
Authors George Cox and Craig Kaston look at the wide variety of proposed solutions for different mission requirements:
The Evolution of American Military Airlift
A Quest For Size
Pursuit of VTOL
The Air Force Turns to V/STOL
Routes to the C-17 and KC-10
Carrier On-Board Delivery
Extending the Design Boundaries
Extreme Outsized Airlifter Conversions
The Once and Future Hercules
New Missions Emerge
Exploring New Technologies
The examination of the designs proposed for the super-sized airlifter that would ultimately be won by the C-5 Galaxy is not only illuminating, it also demonstrates the wide variety of sources made available to the authors for each company's design evolutions with the inclusion of diagrams and data.
The section dedicated to VTOL examines the common as well as conflicting requirements between the Army and the Air Force and the resulting designs that came in answer to both camps.
V/STOL should be more achievable, but once again conflicting requirements and escalating costs would prevent a number of usable designs from getting built. The one design that ultimately emerged was still not ready for prime time.
The AMST program would find a number of designs that would be proposed before the YC-14 and YC-15 would emerge, and even variants of both of these designs were added to the mix to address additional mission requrements. A DC-15 drone deployment aircraft?
If you'd like to experience a variety of design headaches, look over the various outsized airlifter concepts. While some of them could have been somewhat practical, they'd need special infrastructure from wider runways to specialty loading/unloading solutions to work.
The title wraps up with looks at the near and not-so-near solutions for airlift. Between new missions and new technologies now available, the future of airlift has some promising solutions, though as the previous chapters also call out, the budget for airlift is not as robust as planners hope.
Taks a look at this incredible work as American Secret Projects 3 brings the world of airlift and all of the possibilities that were proposed come into view for the first time under one cover.
My sincere thanks to Specialty Press for this review sample!