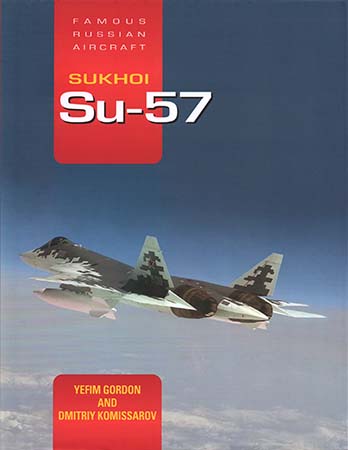 Sukhoi Su-57 Book Review
| | | | |
| --- | --- | --- | --- |
| Date of Review | March 2022 | Title | Sukhoi Su-57 |
| Author | Yefim Gordon, Dmitriy Komissarov | Publisher | Crecy |
| Published | 2022 | ISBN | 978-1910809938 |
| Format | 400 pages, hardbound | MSRP (USD) | $59.95 |
Review
Here is the latest gem from the Soviet/Russian Aviation duo of Yefim Gordon and Dmitriy Komissarov - the Sukhoi Su-57. I think I've mentioned in previous reviews of Gordon's books that I now automatically order anything from this duo and this latest title doesn't disappoint. This is the first title I can recall that the authors took a different approach to the titled subject. Instead of the usual 'here's the Su-57 and here's how it came to pass', this time they took a refreshing look at the development of so-called Generation 5' fighters. As you can see in the table of contents that the story begins with Mikoyan's 1.42 and 1.44 designs with great information and excellent photo coverage. The next step goes into Sukhoi's S-37 and Su-47 Berkut designs that didn't get any further than MiG's. What emerges from the 'ashes' is the Sukhoi T-50, but like most Soviet/Russian aircraft designs, the development starts from the inside out. Engines, avionics, and weapons are developed and as they reach a degree of maturity, the airframe design moves from concept to prototype to encapsulate and integrate the new subsystems. Look at the progression as shown in the Table of Contents:
Mikoyan Misadventures
Sukhoi's Strange 'Bird of Prey'
PAK FA: Round 2; Sukhoi Wins
State Acceptance Trials and Combat Debut
The Su-57 in Production
The Su-57 in Detail
Time to Display and Time to Serve
Comparisons and Prospects
The Checkmate and Other Projects
The authors have compiled an impressive amount of information to fill these pages and provide some fascinating insight to the aircraft. There are hundreds of full-color photos detailing the Su-57 family. The chapter covering the Su-57's combat debut is interesting since the aircraft that deployed to Syria were a number of the T-50 prototypes to see how the avionics would work in a somewhat permissive environment. The authors have a little fun at NATO's expense when they discuss the aircraft's original codename being 'Frazor' before being renamed 'Felon' (they joke that it might be in response to their exploitation of an American F-117 shot down in combat).
Coverage rounds out with a comparison of the Su-57 against the only other Generation 5 aircraft 'out there' including the USAF F-22 and the PLAAF's J-20, followed by a look at the single-engine Checkmate fighter as well as other designs under development.
Whether you're an aviation historian or an Su-57 enthusiast, this is the ultimate title on the subject. Scale modelers will also want to have this handy reference with the great detail photos and references on weapons loads as well. Definitely recommended!