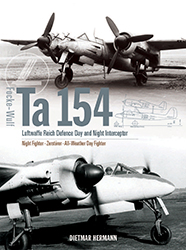 Focke-Wulf Ta 154: Luftwaffe Reich Defence Day and Night Interceptor Book Review
| | | | |
| --- | --- | --- | --- |
| Date of Review | January 2022 | Title | Focke-Wulf Ta 154: Luftwaffe Reich Defence Day and Night Interceptor |
| Author | Dietmar Hermann | Publisher | Crecy |
| Published | 2021 | ISBN | 9781910809945 |
| Format | 224 pages, hardbound | MSRP (USD) | $49.95 |
Review
Despite failure to achieve widespread production and service, Focke-Wulf's Ta 154 "Moskito" – Nazi German's reply to Britain's legendary de Havilland Mosquito – remains a favorite of WWII aircraft modelers.
Now Dietmar Hermann tells the terrific tale in a handy hardback from Crécy – available in North America from Specialty Press.
Focke-Wulf Ta 154: Luftwaffe Reich Defence Day and Night Interceptor – significantly revised and expanded, Crécy says, from the author's 2006 German-language study – spans eleven chapters across 224 lavishly illustrated pages.
But prepare yourself: along the way, Hermann explodes some entrenched Moskito myths and misconceptions.
Kurt Tank's Ta 154 aimed at fulfilling day-fighter, night-fighter, and Zerstörer roles. The Luftwaffe also considered one- and two-seat versions. And projected enhancements explored heavier armament, metal fuselage elements, ejection seats, and raised cockpit and canopy.
With "far better" acceleration and maneuverability than the Heinkel He 219's – "regarded as the best German night fighter among Luftwaffe pilots", Hermann avers – the Ta 154 A-0 ultimately proved an excellent gun platform.
Unfortunately, Focke-Wulf hadn't manufactured a wooden aircraft since 1933's Fw 56 Stösser. And some Ta 154 design facets – its wing of non-strategic, "layered and plywood" components, for instance – proved daunting.
But endemic glue failures? Hermann calls those "fairy tales".
Propulsion problems and relentless Allied air attacks also plagued development. And with the 7 August 1944 program cancellation, Kurt Tank's Moskito saw just limited service.
Hermann deftly distills all. And hobbyists will love it.
Fact-checking dimensions of your model's main- and nose-gear wheels? See page 71. Seeking specifics on the aircraft's wooden wing construction? Jump ahead six pages. How about cockpit minutiae? Pages 88-91 take care of those.
Hundreds of illustrations augment the account: period photos, archival images, tech-manual excerpts, and close-up shots.
Color profiles also provide authoritative camouflage & markings schemes. And captions, sidebars, recollections, anecdotes, and appendices further supplement the study.
But what scale are those line drawings?
What a ripping read. If you thought you knew key aspects of the Ta 154 saga, this seminal study might surprise you.
Recommended!
My sincere thanks to Specialty Press for this review sample!