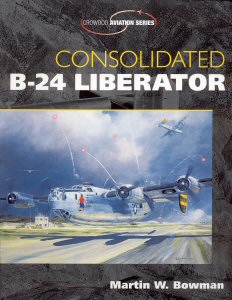 Consolidated B-24 Liberator Book Review
| | | | |
| --- | --- | --- | --- |
| Date of Review | May 2005 | Title | Consolidated B-24 Liberator |
| Author | Martin W. Bowman | Publisher | The Crowood Press |
| Published | 2004 | ISBN | 1-86126-709-6 |
| Format | 192 pages, softbound | MSRP (USD) | $24.95 |
Review
The Crowood Press from the UK has released a new title from author Martin Bowman. Aptly entitled 'Consolidated B-24 Liberator', this book looks into the development and operational history of this heavy bomber.
Originally designed to replace the 1930s era B-17, the B-24 Liberator didn't offer significant improvements in performance over the Flying Fortress. While able to carry a larger payload, it was more susceptible to battle damage. Its claim to success was its ability to be mass produced thanks to Ford's development of the Willow Run facility that could literally roll a completed B-24 off the assembly line every hour.
The B-24 saw service in all theaters of operation during WW2 and was also flown by the RAF and Commonwealth Air Forces. With the US, not only was this a workhorse in daylight bombing by the USAAF, the US Navy also adopted the aircraft as a submarine hunter, dubbed the PB4Y Privateer. The PB4Y-2 replaced the twin tails with a larger single tail in addition to a variety of special modifications for anti-submarine and anti-shipping duties.
The coverage of this informative title is presented as follows:
Inception and Development
Early Days in the ETO
'Tidal Wave'
ETO
The Soft Under-Belly of Europe
The War Against Japan
For King and Commonwealth
Search, Find and Kill
The Carpetbagger Project
Wings of Gold
Postscript
If you've wanted only one informative book that shows the history as well as some great photographs on internal and external details of this important aircraft, this is the book you've been waiting for. This title is highly recommended!
My sincere thanks to Motorbooks International for this review sample!