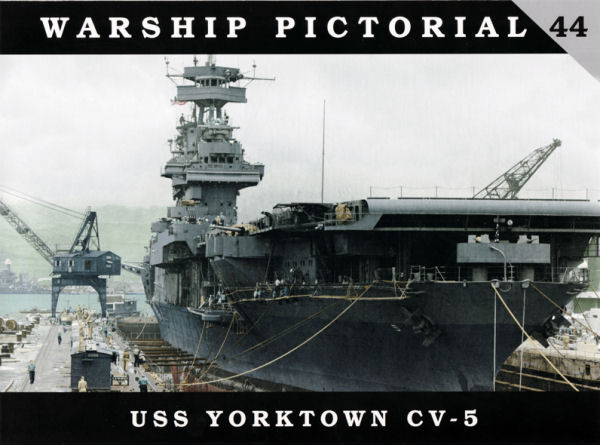 USS Yorktown CV 5 Book Review
| | | | |
| --- | --- | --- | --- |
| Date of Review | June 2016 | Title | USS Yorktown CV 5 |
| Author | Steve Wiper | Publisher | Classic Warships Publishing |
| Published | 2016 | ISBN | 978-0-9969199-0-6 |
| Format | 72 pages, softbound | MSRP (USD) | $18.00 |
Review
Classic Warships has produced the 44th in a series of warship pictorial books keeping with the naval sea power theme. Steve Wiper provides a photographic history of the legendary USS Yorktown CV-5 of the Coral Sea and Midway battles.  This book features 72 pages with over 85 images of this valiant carrier, including eight in original color on the end pages, pulled from a color film shot on Yorktown's sister carrier the Hornet. There are five drawings in this volume, three of which are reproductions from Yorktown's Coral Sea and Midway damage reports.
There are many excellent photos in this book, some of which I have never seen before, some of which I have seen, but are larger or of better quality than I've seen of those same photos in other books.  This includes a great photo on Page 42 of Yorktown in Naval Base Norfolk in September 1941, sporting what appears to be a light grey spotting top. Steve says that is the remnants of her earlier Measure 1 camouflage.  I was unaware that she ever wore Measure 1.
This book is the best yet from Classic Warships as it includes US Navy Camouflage Painting Instructions for Measure 12 Graded System.  I really like the inclusion of the damage report drawings, and a plan view of Yorktown's flight deck and the placement of her non-standard .50 caliber AA guns at the time of her loss.  Yorktown was the most efficient and battle test carrier in the US fleet by the time of the clash at Midway.
For anyone who is a fan of this aircraft carrier, this is another must have book from Classic Warships Publishing. With the many high quality photos, this is will be a great addition to the reference library for both historians and scale modelers.  Grab one now, before they are gone!
Thanks goes out to Steve Wiper of classicwarships.com for the review sample!