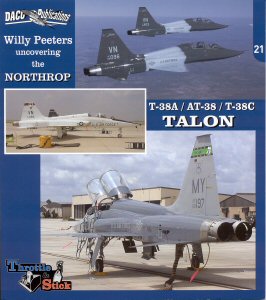 Uncovering The Northrop T-38A/AT-38B/T-38C Talon Book Review
| | | | |
| --- | --- | --- | --- |
| Date of Review | March 2005 | Title | Uncovering The Northrop T-38A/AT-38B/T-38C Talon |
| Author | Willy Peeters | Publisher | DACO Publications |
| Published | 2005 | ISBN | 90-806747-4-5 |
| Format | 80 pages, softbound | MSRP (USD) | $24.95 |
Review
If you've seen the previous releases of the 'Uncovering' series from Daco Publications (the F/A-18 Hornet and F-16 Fighting Falcon), then you know it was a no-brainer to pre-order this title when it was announced. This is the first one in this series by Willy Peeters, but don't let that fool you, if you've been collecting references for a while, then you already know the 20+ titles of photo references he published under the 'Lock-On' and 'War Machines' series for Verlinden Publications.
Once again, the author has done an excellent job of walking the reader/modeler through the details and differences with the T-38 series. The first 60 pages walk through the standard T-38 trainer and the AT-38B fighter-lead-in aircaft. While not clearly shown in the detail photos, you can see the gun sight added to the front cockpit of the AT-38B. The gunsight and centerline pylon are the principal differences between the T-38A and AT-38B.
The T-38C gets a special look in the last 20 pages, with the uprated engines, heads-up display over the glass cockpit, and updated engine inlets and exhaust nozzles. If you look closely the PMP Talons have an exhaust ring similar to the F-111 and SR-71.
If you've been waiting on building your Sword 1/48 T-38 until a decent reference is published, your wait is over as they won't get any better than this. If you're looking for one photo reference of current T-38s, then this is the one to buy.
Highly recommended!