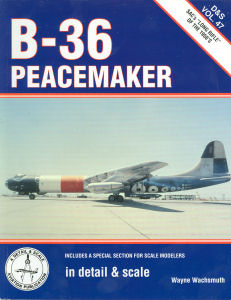 B-36 Peacemaker in Detail and Scale Book Review
| | | | |
| --- | --- | --- | --- |
| Date of Review | January 2009 | Title | B-36 Peacemaker in Detail and Scale |
| Author | Wayne Wachsmuth | Publisher | Detail & Scale Aviation Publications |
| Published | 1995 | ISBN | 0-89024-239-9 |
| Format | 72 pages, softcover | MSRP (USD) | OOP |
Review
For those of us who've been modeling a while, Detail & Scale is a familiar series of modeling monographs that pioneered the blending of aircraft monograph and modeling reference. Author and publisher Bert Kinzey has produced a wide range of subjects, some authored under his own pen (keyboard), others like this one authored by other subject matter experts.
Author Wayne Wachsmuth is one such expert. He spent his Air Force career flying the B-47, B-52, and FB-111. His love of flying and scale modeling has led to this excellent monograph on the B-36.
As with other titles in the Detail & Scale series, this one provides a good summary of the history and development of the world's largest piston-driven bomber. This historical perspective launches into a description of the B-36 variants and their differences, and even some of the attempted spin-offs like the nuclear-powered NB-36H (what would have become the X-6 in flight test), the YB-60 eight-engined jet-powered competitor to Boeing's B-52, and the multi-story XC-99 transport that still rivals the Airbus A380 in size.
The title continues with a detailed photo walk around of key features of the B-36 with a great mix of period photos and technical drawings to clearly illustrate the aircraft inside and out.
One other distinguishing feature of the Detail & Scale series is the kit section. This section describes each of the kits that were available at the time this title was written along with any detail issues and recommended corrections. A key feature to this particular title is the coverage of the Monogram 1/72 B-36H/RB-36H kit as it goes into some significant depth in how to correct some of the accuracy issues as well as other fit challenges in the kit.
Whether you're an aviation buff, scale modeler, or both, this is definitely a title worth having on your shelf. My title was printed by Kalmbach Books (I've had my copy for a while) and you'll find the same titles in the Detail & Scale series printed by:
Detail & Scale
Kalmbach Books
Squadron/Signal Publications
No matter who prints the book, the material is the same and definitely worth having at your fingertips.
Definitely recommended!