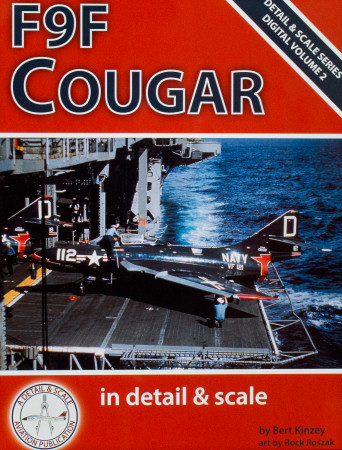 F9F Cougar in Detail and Scale Book Review
| | | | |
| --- | --- | --- | --- |
| Date of Review | July 2014 | Title | F9F Cougar in Detail and Scale |
| Author | Bert Kinzey | Publisher | Detail & Scale Aviation Publications |
| Published | 2014 | ISBN | N/A |
| Format | 400+ pages, electronic (iBook and Kindle) | MSRP (USD) | OOP |
Review
Detail and Scale is back with their second electronic title, F9F Cougar in Detail and Scale. This title follows their first effort, F3H Demon in Detail and Scale, which not only one of the best references for the Demon but is also one of the best book titles I've seen using the various interactive features of the iPad and Kindle to great use. What does that mean to you?
You can use menu hyperlinks to jump straight to a section of interest
You can expand photos and drawings to full-screen
You can zoom in on details in photos and drawings for a closer look
You can search for specific text within the title
You can bookmark items of interest
You can highlight and annotate the book with your own notes
In this title, the author clearly throws off the shackles of conventional publishing. Gone are page limits, cramming great images into tiny spaces, and limitations on color printing. If you can remember the original F9F Cougar in Detail and Scale (Volume 16), the entire history of the Grumman Cougar series, including available model kits, was condensed into less than 72 pages and most of that was black and white. In this new title, Bert Kinzey (author) and Rock Roszak (Illustrator) have made good use of the electronic publication as this title is over 400 pages and crammed full of great photos and color profiles. Take a look at the summary differences between old and new:
You can see in the sample pages below that this is still the thorough Detail and Scale format, but there's lots more of it at your fingertips. What's more, my iPad is no heavier with 400 more pages of reference inside...
Coverage includes:
Developmental History
Cougar Variants
Flying the Cougar
Cougar Details
Cougar Paint Schemes
Cougar Squadrons
Modeler's Section
The pilots' section 'Flying the Cougar' has great stories from five pilots who provide some interesting insight to operating the first swept-wing Grummans. These include one gentleman with four MiG kills while flying the F9F-5 and transitioning into the Navy's first swept-wing fighter, the F9F-6; another with the F9F-8, a third flying the F9F-6P and F9F-8P, a fourth who instructed in the F9F-8T, and finally the fifth who flew and supported the conversion of Cougars into drones.
This title is released just in time for the Kitty Hawk Models' 1/48 TF-9J (F9F-8T) Cougar kit which is looking really good so far (Fotios Rouch will be providing his first look very soon). There is some nice coverage of the US Marine Corps FAST FAC TF-9Js in Vietnam as this is the only Cougar variant to see combat (remember that it was the F9F Panther that fought in Korea).
Head over to Amazon or the iTunes Store and order a copy. This technology is also truly instant gratification as the title will download to your tablet on completion of your purchase.
For more information about this and other titles, visit their website.
Definitely recommended!
My sincere thanks to Detail & Scale for this review copy.