SBD Dauntless in Detail and Scale Book Review
Date of Review
April 2016
Title
SBD Dauntless in Detail and Scale
Author
Bert Kinzey, Rock Roszak
Publisher
Detail & Scale Aviation Publications
Published
2016
ISBN
N/A
Format
500+ pages, electronic (iBook and Kindle)
114 pages, softbound
MSRP (USD)
$12.99 electronic
$19.99 hardcopy
Review
Over the last few years, Detail and Scale made the transition to digital publishing by releasing new titles including the F-14 Tomcat Part 1, F9F-8 Cougar, and F3H Demon. While it is always nice to see new material that is accessible at my fingertips, I kept hoping that Bert Kinzey and Rock Roszak would dust off some of their older 'analog' works and bring them up-to-date. Patience has paid off this this first 'new' release out of the analog archives.
This is the SBD Dauntless in Detail and Scale and for the most part, the textual content remains as it did when first published. What is significant with bringing these older titles into the digital age is that many of the original images were in color and due to costs of publishing in the day (my arteries just hardened with that phrase), the majority of images were published in black and white. Even so, when my eyesight was better, I was still squinting to make out details in these printed images. With digital publishing, the color images remain in color and the images can be expanded out to their original size (you can zoom in to see those details). What does digital publishing mean to you?
You can use menu hyperlinks to jump straight to a section of interest
You can expand photos and drawings to full-screen
You can zoom in on details in photos and drawings for a closer look
You can search for specific text within the title
You can bookmark items of interest
You can highlight and annotate the book with your own notes
Here's a good example from my past modeling days. The image on the left is the typical format of the 'analog' book with good captions to describe what you're seeing. With the digital volume, I can now tap on the cockpit image and zoom in as far as I can go (right side) and I can clearly read the instruments. Nice.
Coverage includes:
Historical Summary
Dauntless Variants
Dauntless Details
Dauntless Colors
Modelers Section
As I said above, most of the material is from the original publication, but not all of it. They've brought it up to date with some images of the CAF Dauntless with images from an airshow in 2004 and the special WWII Flyover of DC in 2014. Rock Roszak has provided a nice range of color profiles which are new, and what is a Detail and Scale without the Modelers Section which has also been brought up to date with the latest kits and aftermarket items since the title's first release.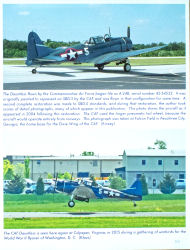 Head over to Amazon or the iTunes Store and order a copy. This technology is also truly instant gratification as the title will download to your tablet on completion of your purchase.
For more information about this and other titles, visit their website.
Definitely recommended!
My sincere thanks to Detail & Scale for this review copy.