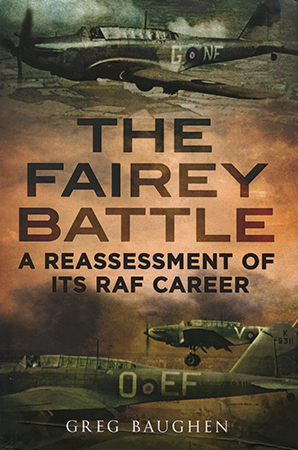 The Fairey Battle: A Reassessment of its RAF Career Book Review
| | | | |
| --- | --- | --- | --- |
| Date of Review | October 2017 | Title | The Fairey Battle: A Reassessment of its RAF Career |
| Author | Greg Braughen | Publisher | Fonthill Media |
| Published | 2017 | ISBN | 9781781555859 |
| Format | 114 pages, softbound | MSRP (USD) | $30.00 |
Review
Fairey's baleful Battle achieved fame as one of history's worst warplanes.
But was it really?
Greg Baughen reexamines the record in Fonthill Media's The Fairey Battle: A Reassessment Of Its RAF Career – available in North America from Casemate.
Over 144 pages and six succinct chapters, the author capably charts the design deficiencies, flawed assumptions and dogmatic decisions that forged Battle's nasty notoriety.
Baughen essentially argues that missed opportunities to upgrade Fairey's design deprived the RAF of a potent tactical support aircraft during Hitler's Blitz of France and the Low Countries.
He maintains that Britain could have quickly, simply and economically augmented aircraft power, added armor, increased armament and installed self-sealing fuel tanks – improving Battle performance and survivability.
Baughen even draws comparisons to Soviet Russia's legendary Il-2 Shturmovik – a machine of similar size and performance to Fairey's despised design.
Add faulty British strategy – assigning Battles to strategic deployments and to unescorted tactical missions. And combat supposedly sealed Battle's perpetually foul repute.
Not necessarily.
As the Battle of France progressed, revised tactics and other measures actually mitigated Battle vulnerability, bringing aircraft losses to acceptable levels. Unfortunately, after the campaign, seasoned Battle squadrons returning home were, Baughen contends, "wasted". And chances to exploit combat lessons and pursue aircraft upgrades were squandered.
But the "real tragedy in the Fairey Battle story," Baughen opines, "is that its brave crews had to endure the myth that their efforts had been pointless." With proper support, he brashly asserts, "Battle aircrews could have changed the course of the campaign" – and "the future course of the war".
This is certainly a bold little book for students of 1940's Blitzkrieg. Get a fresh slant on one of WWII's most maligned machines – and grab this ripping read.
Photos, appendices and annotations augment the absorbing account.
My sincere thanks to Casemate Publishing for this review sample!