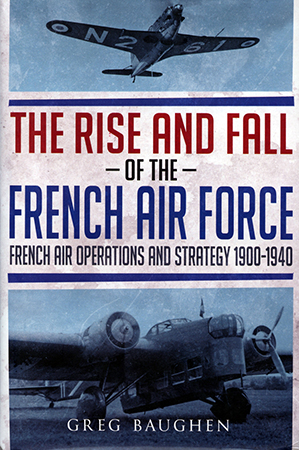 Rise and Fall of the French Air Force Book Review
| | | | |
| --- | --- | --- | --- |
| Date of Review | November 2018 | Title | Rise and Fall of the French Air Force |
| Author | Greg Braughen | Publisher | Fonthill Media |
| Published | 2018 | ISBN | 9781781556443 |
| Format | 288 pages, hardbound | MSRP (USD) | $45.00 |
Review
French airpower went from resounding victory in 1918 to humiliating defeat in 1940.
Now Greg Baughen charts the roots of collapse in The Rise and Fall of the French Air Force from Fonthill Media – available in North America from Casemate.
Subtitled "French Air Operations and Strategy 1900-1940", the admirably annotated and indexed contents span 15 chronologically arranged chapters:
The Seeds of Future Problems
Towards a Modern Air Force
The Air Force Loses Its Way
The Bomber Rules
Fighter Design: Squandered Opportunities
Back to the bomber
Chaos Reigns
Time to Rearm
To the Brink of War
From Confidence to Panic
Desperate Measures
Dutch Misadventure
Disaster on the Meuse
Missed Opportunities
Lessons Learned Too Late
The book's first 123 pages cover 20 years of see-saw, post-WWI French plans, policies, proposals, and presumptions. France, Baughen bemoans, was "seduced by radical and unproven theories on the way air power would develop in the future."
Among these was, for instance, the impractical multiplace de combat concept – a Douhetian dead end that regularly, almost relentlessly deflected attention and assets from more promising paths.
The remaining 165 pages focus on 1938 through France's June 1940 defeat.
With resurgent, re-armed Nazi Germany, French military leaders failed to forecast either domestic needs or enemy threats. Moreover, French production proved ill-equipped for the demands of total war.
The country's newest and best warplanes – the Dewoitine D.520, Arsenal VG-33, Lioré-et-Olivier LeO 451, and Amiot 351/354 – endured prolonged gestations and onerous introductions. And older, obsolescent designs often bore the desperate brunt of stopgap operations.
France, Baughen wryly observes, "did not have enough combat planes of either the old or the new generation."
That's partially because serious supply deficiencies further deprived completed airframes of engines, armament, and other critical components. And once combat commenced, almost "non-existent" aircraft reserves and scant unit-level repair capabilities nearly crippled operations.
Add lethal command mistakes and missed opportunities – and France suffered a baneful blend of flaw, failure, and fiasco during Hitler's 1940 Blitzkrieg.
The author methodically recaps all.
But might France have ultimately avoided defeat? Here Baughen posits some provocative possibilities in the book's final pages.
Judge for yourself. Get this intriguing, informative study.
Over 60 B&W photos, line drawings, a "Conclusion", and three appendices augment the account.
Recommended!
My sincere thanks to Casemate Publishing for this review sample!