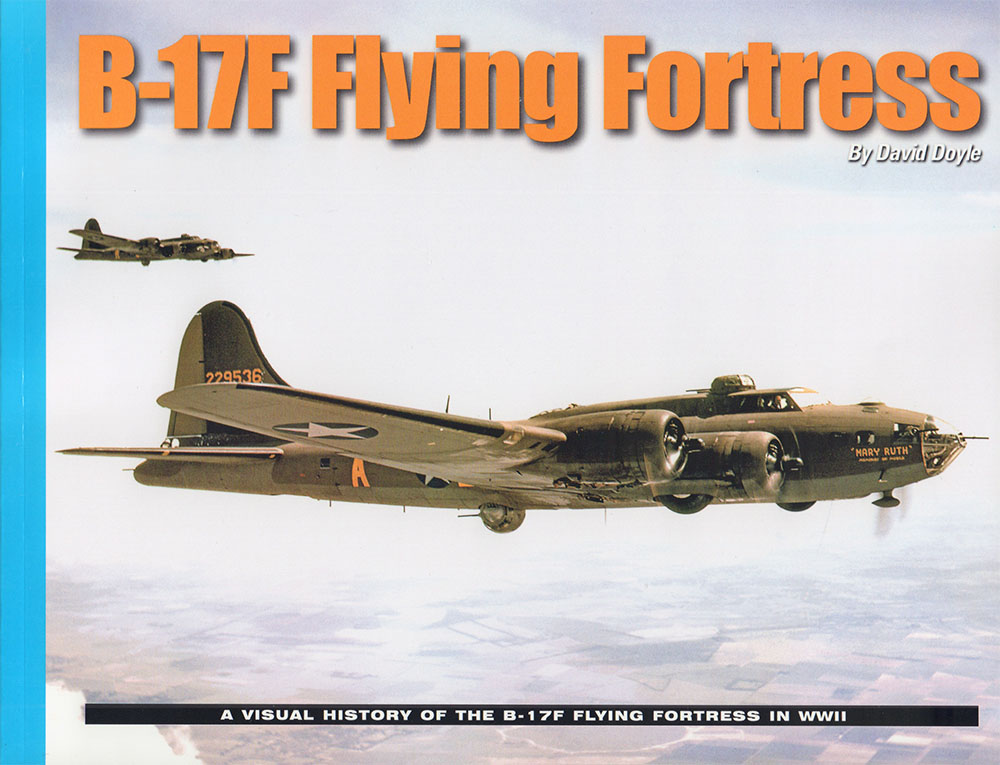 B-17F Flying Fortress Book Review
| | | | |
| --- | --- | --- | --- |
| Date of Review | August 2017 | Title | B-17F Flying Fortress |
| Author | David Doyle | Publisher | G-104 Press |
| Published | 2017 | ISBN | 9781775013310 |
| Format | 120 pages, softbound | MSRP (USD) | $20.00 |
First Look
Like many of his previous titles, the B-17F Flying Fortress by David Doyle is presented as a visual history (loads of photos), but each one is captioned with significant information useful for the historian and modeler alike. Unless you're a B-17 buff, you might not realize that there are significant detail differences between the early and late B-17G as well as detail differences betweeen aircraft produced by the three factories turning out B-17s - Boeing, Douglas, and Lockheed/Vega. Those differences didn't start with the B-17G, as Douglas and Lockheed/Vega came online during B-17F production, each factory introduced distinctive details unique to their production lines. To complicate things further, many aircraft that were ferried to the UK for assignment were run through a depot that added different gun configurations to the nose compartment. Do you want to decode these differences? You've come to the right place!
Several years ago, author Alan Griffith released a long-researched title called 'Consolidated Mess' which provided in-depth coverage of the detail differences between the numerous B-24 Liberator variants. While I pleaded for him to provide a similar work for the Flying Fortress, he had other subjects lined up in his queue. With the release of this title, we now have that reference for the B-17F.
The first 71 pages of this title consist of period black & white and color photos of the aircraft in its various configurations including the famous 'Memphis Belle' and the gunfighters (gunbombers?) XB-40 and YB-40. The remaining pages take a rare look inside the beautifully restored B-17F at the Museum of Flight's facility which has been fitted with all of the fixtures and equipment of a period F-model.
If you're planning to build the massive HK Model 1/32 B-17F, detail out the empty shell of the Revell 1/48 B-17F, or provide significant details to one of the various 1/72 kits 'out there', this title is one to have on your bench. On the other hand, if you're an aviation historian or interested in the B-17, this title provides you with the essential detail information that distinguish the many sub-variants of the B-17F.
This title is definitely recommended and I hope that we'll see a similar work for the B-17G in our future! I also hope that we'll see an in-depth study of the Flying Fortress from this author in the same depth as his GMC CCKW Truck and DUKW titles. That would be the ultimate reference!
My sincere thanks to David Doyle Books for this review copy!