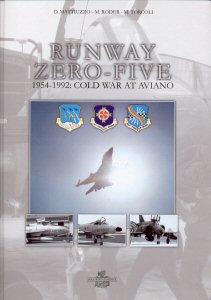 Runway Zero-Five - 1954-1992: Cold War at Aviano Book Review
| | | | |
| --- | --- | --- | --- |
| Date of Review | April 2005 | Title | Runway Zero-Five - 1954-1992: Cold War at Aviano |
| Author | D. Mattiuzzo, M. Roder, M. Torcoli | Publisher | Goliardica Editrice |
| Published | 2003 | ISBN | 88-88745-01-7 |
| Format | 200 pages, hardbound | MSRP (USD) | Approx $45.00 |
Review
Here is a book that is an obvious labor of love. Despite its 200 pages, it is a whirlwind of history at this very important airbase in Italy. Aviano has been the staging point for many contemporary operations in the Balkans and other regions, but in the Cold War, it served as a centerpiece in NATO air operations. The United States has maintained a strong presence at Aviano AB for many years and are there as the story begins in 1954.
The authors look at the airbase through periods of operations beginning with the F-84F, F-86, F-100, and so on. The major divisions of the book are by decade, the 1950s, 1960s, 1970s, and 1980s (through 1992 actually).
The narrative covers highlights and special events at the airbase, such as the brief deployment of Colonel Chuck Yeager and his F-100 Super Sabre squadron to Aviano before getting shipped back to George AFB after one of his 'stunts'.
This title is very well illustrated with lots of black & white photos from the 1950s, then from the 1960s on there are stunning color photos of numerous beautiful aircraft. The authors have captured the F-100 Super Sabre in various bare metal and camouflage schemes, every fighter flown by the USAF through 1992, the Thunderbirds and Skyblazer aerial demonstration teams, transient US and NATO aircraft, etc. This is an amazing collection of imagery! I love the color photo of the Blue Angels' F11F Tigers on the ramp!
In addition to the history and photo collection, the authors have also provided a decade-by-decade order of battle for USAFE, broken down by wing, squadron, their tailcodes and colors. There are also numerous color profiles of the various aircraft that either called Aviano home or passed through in their day-to-day operations.
In case you're wondering, the book is published in English, with an Italian manuscript inserted at the end.
This is an excellent title to add to your collection whether you are an aviation historian or a modeler that collects unique resources to find those rare photo gems.
My sincere thanks to author Daniele Mattiuzzo for this review sample. A brief search of the internet revealed several Italian bookstores that offer this title online, though you should be able to special order this book through Barnes and Noble or your favorite bookseller using the ISBN number.